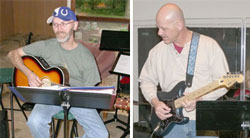 The Anchor worship team has a gig on Friday night. We're playing for a couple hours at the Grind coffeehouse in Fort Wayne. I've not been there before. Interestingly, we're required to do only our own original music. The Grind doesn't want to purchase the BMI license needed to legally perform live music written by other people.
Fortunately, Tim (left) and Terry (right), our guitarists, have written gobs of music, most of which we've done at Anchor. Some songs are part of the regular song-package rotation, others we've done as preludes. We're also doing a few songs written by Chris Kuntz, our former worship leader. And then you can throw in a few songs using someone else's tune (like "Who'll Stop the Rain" and "Mustang Sally"), to which Tim and Terry have written their own lyrics. I even contributed a song in this category, writing new words to Coco Montoya's "Clean Slate."
Put it all together, and we've got two hours of original music. Pretty impressive. I'll be there, along with Terry's son Joe (drums) and Tom, our outstanding bass player.
Tim and Terry are very talented. They recorded several songs. I've included them below, along with cord charts. I think you'll enjoy them. I particularly like "I Don't Believe in Luck," perfect to accompany any sermon dealing with gambling or money in general.
| | |
| --- | --- |
| I Don't Believe in Luck | |
| | Chord Chart .doc | .rtf |
| Party in Heaven | |
| | Chord Chart .doc | .rtf |
| I Wanna Be Like You | |
| | Chord Chart .doc | .rtf |
Leave a comment