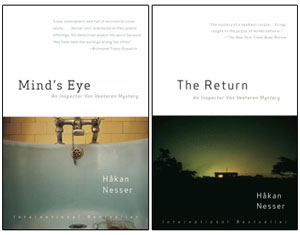 During the last week I read two books by Swedish writer Hakan Nesser. Here is yet another very good Swedish mystery writer.
Nesser's protagonist is Chief Inspector Van Veeteren. I found nothing special about Veeteren (though I initially thought the same of Henning Mankell's hero, Kurt Wallander). Perhaps he will grow on me. Nevertheless, the plots were quite engaging.
Both books feature a team of police investigators trying to solve murders (as do Mankell's books). The Swedes aren't into the rugged individualist, man-against-the-system types common in American mysteries. In both books, interestingly, the investigation revolves around someone whom Van Veeteren suspects has been falsely convicted and imprisoned for a murder. And in both books, the investigation is set in motion when the accused is killed.
In "Mind's Eye," a man is sentenced to a mental institution for killing his wife, and then is brutally killed in his cell. The beginning chapters, about this man's court case, are utterly fascinating. It's a complex plot which twists and turns before reaching a satisfying conclusion.
In "The Return," Leopold Verhaven spends 12 years in prison for killing his wife, is free for a while, and then goes back to prison for another 12 years for killing another woman. On the day he is released from prison the second time, he is murdered. Did someone seek revenge? Or was he murdered by the actual murderer? Did Verhaven–himself a complex, disturbed person–commit one murder, both…or none?
While I was not particularly taken by Van Veeteren, the conclusion to "The Return" surprised me with its uniqueness, and made me want to read more about Veeteren. There's another Van Veeteren book in English, and no doubt others awaiting translation from the Swedish.
Nesser's books, like most of my favorite mysteries, are published under the Black Lizard imprint from Vintage Books (part of Random House).
Leave a comment