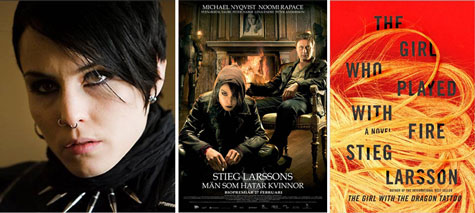 L-r: Lisbeth Salander, as played by Swedish actress Noomi Papace in the movies; a movie poster (picturing Salander and Mikael Blomkvist); the American publication.
I just finished the Black Lizard publication of "The Girl Who Played with Fire," an amazing book. It's the sequel to Stieg Larsson's "The Girl with the Dragon Tattoo," which stormed the US (and Europe before that) in 2009 (which I reviewed in December 2009). They are the two best mysteries/thrillers I've read in a long while.
A third book in the series, "The Girl Who Kicked the Hornet's Nest," was published in hardback in the US in May 2010. The three books are known as the Millennium Trilogy.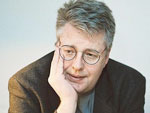 Stieg Larsson (right), a Swede, turned in all three books to a publisher in 2004, and the first book (called "Men Who Hate Women" in Sweden) had just been published…and then he died of a massive heart attack. He was 50. Since he and his companion of 32 years, Eva, never married, the entire estate went to Larsson's father and brother; she got nothing. This is a big scandal in Sweden, though their laws are pretty clear. A case of bad planning.
They had no idea these books would become a worldwide sensation. The three books became the number 1, 2, and 3 bestsellers in Sweden, and the same pattern repeated in other countries. In 2008, Larsson was the second-highest-selling author in the world. In 2009, all three books were released as movies in Sweden. To date, 27 million copies have been sold in 40 countries.
The title character, Lisbeth Salander, may be the most interesting heroine you'll ever read about.
To envision Lisbeth Salander, start with the goth stereotype–black clothes, piercings, tattoos, anti-social, introverted. She's 4-foot-9 inches tall and weighs 90 pounds. Add a severely dysfunctional childhood and a total distrust of "the system," which has let her down repeatedly. Then add genius qualities–an expert computer hacker, photographic memory, amazing resourcefulness. And a willingness to resort to violence when threatened.
She is joined by Mikael Blomkvist, a middle-aged investigative journalist with the magazine "Millennium," thus the title of the series. Blomkvist is well-known in Sweden for his exposes. He and Salander have a strange relationship, mainly because she distrusts everyone and is emotionally bankrupt. They are not a "couple," but end up working together.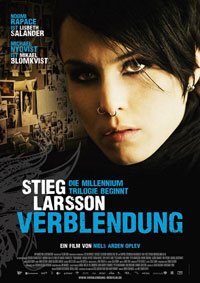 "The Girl Who Played with Fire" starts pretty much where "The Girl with the Dragon Tattoo" left off, though it mostly occurs two years later. It starts with an upcoming, blockbuster Millennium expose of sex trafficking, but turns into a murder mystery, and then gets taken over by plotlines from "Dragon Tattoo." Halfway through the book, Salander disappears entirely for a long period as a full-fledged police investigation begins, and Larsson acquaints us with the persons on the police team.
It's difficult to figure out where the book is going, but you can't pull yourself away. I was sucked in, and just had to keep reading, utterly hooked. Larsson jumps from one character to the next, a few paragraphs or a few pages with each, juggling a host of different perspectives, motives, and agendas. But everything comes together in the end. The plot is very complicated, yet easy to follow. A lot happens in those 630 pages.
Larsson wrote the books in his spare time. His main preoccupation was running an organization that documented and exposed right-wing extremism and racial and religious intolerance. He and Eva lived their last 15 years under death threats from extremist groups, and the threats were real. One reason they never married is that Swedish law requires that married couples make public an address; for security reasons, Stiegg and Eva kept their lives out of the public view.
The third book, "The Girl Who Kicked the Hornet's Nest," start immediately where "The Girl Who Played with Fire" ends. I'm anxious to see where the story goes, and may not have the patience to wait for the Black Lizard paperback version in 2011.
Larsson envisioned a ten-book series. Eva still has possession of an unfinished manuscript for the fourth book, and I read that he left a synopsis for books 5 and 6. But his books are so unique, I can't imagine turning them over to some other writer. Larsson is gone, and I greatly doubt he can be replaced.
Leave a comment