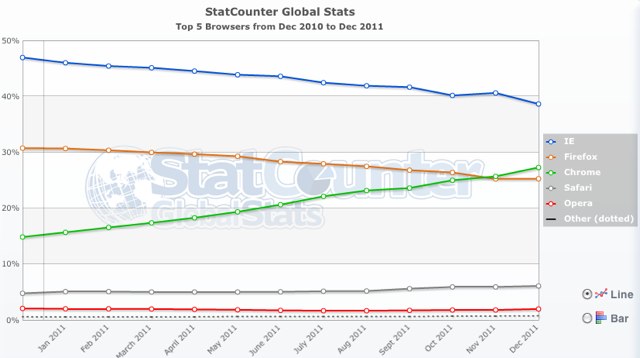 A couple years ago, after having used Safari as my web browser since the day it was introduced, I switched to Firefox. I was running into problems on too many websites with Safari. Firefox, I discovered, worked great nearly everywhere. I really liked it. I didn't have trouble making the switch.
Then Chrome came along. I switched to Chrome a year ago. It's fast, looks great, and has lots of add-ons. But the killer feature is the single field for typing URLs and doing searches. In both Safari and Firefox, the search field is on the right, and the address field on the left. Chrome combines them both. Very user-friendly.
This morning I saw a chart which shows how the various browsers are doing. Both Internet Explorer (not surprising) and Firefox (surprising, to me) are losing market share. But Chrome has grown from 15-27% share during the past year, and has now passed Firefox.
Leave a comment