The Republicans have taken some shots recently for naming white men as chairmen of all of the House committees. Well, that's not fair. After the criticism arose, they still had two slots to fill, and they found a white woman, Candice Miller of Michigan, to chair one of them–House Administration committee. John Boehner described this person's responsibilities as "ensuring that the House runs efficiently and smoothly"–or, as Jon Stewart said, the "Housewife."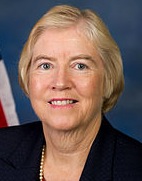 Miller (right) had been a member of the larger and more prestigious Homeland Security committee, and a subcommittee chairperson, and she wanted to become its new chairman. Normally, you choose a chairperson from the persons who have been serving on that committee. But in picking a chairman for the House Administration committee, Boehner had to look outside the existing committee. But hey, at least they now have diversity in the committee chairpersons–19 white men, 1 white woman, and 1 more chairmanship to go.
Actually, the Republicans have more diversity in the current House (which serves until January). Currently, the House chairmanships include 1 woman and 1 hispanic. That would be

Ileana Ros-Lehtinen (right), a Cuban-American from Florida who chairs the important Foreign Affairs committee. She's the ranking Republican woman in the House, serving since 1989. She had to give up her chairmanship because she had served her maximum of 6 years on the committee. Interestingly, they waived the limit for Paul Ryan so he could keep his chairmanship of the Budget committee. Since he's a white guy, do different rules apply?
In addition to being a hispanic woman, Ros-Lehtinen is a minority in several other ways: she's a Scientologist, she's one of three Republican members of the LGBT caucus, and she was the first House Republican to suport same-sex marriage. Not, I'm assuming, a Tea Party favorite.
To be fair, the Republicans don't have a lot of choices. Out of 235 members of the House, the Republicans have just 17 women, 1 black, and six hispanics. The Democrats alone have 61 women. In the 2012 elections, the Republicans lost 6 women, 1 black, and 1 hispanic. So their minority representation isn't headed in the right direction.
John Boehner hasn't yet named a chairperson of the Ethics committee (which, like Budget, has no subcommittees). I imagine he's searching real hard for a woman or minority.
Anyway, here are the current (through January 2013) House committees, each of which has 2-13 subcommittees, each with their own chairpersons. I pointed out, with each committee, how many subcommittee chairpersons are non-Caucasian male. The Democrat line indicates not the chairperson, of course, but the ranking Democrat on the subcommittees. If you want to factcheck this, go to Wikipedia.
Agriculture (7 sub-committees)
Republicans: 1 woman
Democrats: 3 hispanics, 1 black woman
Appropriations (13 sub-committees)
Republicans: 2 white women
Democrats: 2 women, 2 blacks, 1 hispanic, 1 asian
Armed Services (8 sub-committees)
Republicans: all white men
Democrats: 3 women, 2 hispanics
Education and Workforce (7 sub-committees)
Republicans: 1 white woman
Democrats: 1 hispanic, 1 woman
Energy and Commerce (7 sub-committees)
Republicans: 1 white woman
Democrats: 1 black, 2 women
Financial Services (7 sub-committees)
Republicans: 2 white women
Democrats: 3 women, 1 hispanic, 2 blacks
Foreign Affairs (8 sub-committees)
Republicans: 1 hispanic woman
Democrats: 2 woman, 2 blacks
Homeland Security (7 sub-committees)
Republicans: 1 white woman
Democrats: 4 blacks, 4 women, 1 hispanic
House Administration (2 sub-committees)
Republicans: All white men
Democrats: 1 white woman
Judiciary (6 sub-committees)
Republicans: All white men
Democrats: 3 black, 1 woman
Natural Resources (5 sub-committees)
Republicans: All white men
Democrats: 2 hispanics, 1 woman
Oversight and Government Reform (8 sub-committees)
Republicans: All white men
Democrats: 3 black men
Rules (2 sub-committees)
Republicans: All white men
Democrats:1 black man
Science, Space, and Technology (6 sub-committees)
Republicans: All white men
Democrats: 2 black women
Small Business (6 sub-committees)
Republicans: 1 white woman
Democrats: 2 women, 1 asian, 1 black, 1 hispanic
Transportation and Infrastructure (7 sub-committees)
Republicans: All white men
Democrats: 2 black women
Veterans' Affairs (5 sub-committees)
Republicans: 1 white woman
Democrats: all white men
Ways and Mean (7 sub-committees)
Republicans: All white men
Democrats: 1 black, 1 hispanic
Intelligence (4 sub-committees)
Republicans: 1 woman
Democrats: 1 white woman
Leave a comment