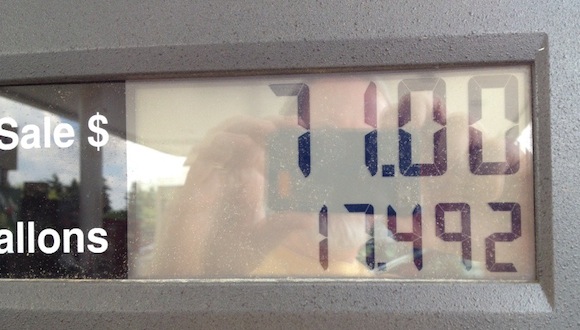 We're talking a Honda Accord. Yes, I was down to fumes. But still.
Leave a comment
---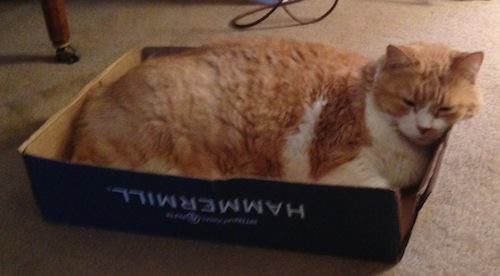 He's quickly wearing out the box tops. And he certainly doesn't look comfortable.

Leave a comment
---
I grill a lot. Especially love doing ribeyes. So I was drawn to an article which addresses 7 myths about cooking steaks. I learned a lot.
One myth is that it's bad to cut into a steak to see if it's done. I've heard this numerous times, but flagrantly disobey it. It just so much easier than, say, using a thermometer, to just make a cut into the side of the steak or hamburger to see how much pink remains.
I will now do so with reckless and unrepentant abandon.

Leave a comment
---

This is a fascinating and imminently valuable article, with lots of information I didn't know. Real-life drownings look nothing like drownings on TV shows, with people crying for help and waving their arms. Real drownings are very quiet. A couple excerpts:
"Of the approximately 750 children who will drown next year, about 375 of them will do so within 25 yards of a parent or other adult. According to the CDC, in 10 percent of those drownings, the adult will actually watch the child do it, having no idea it is happening."
"Sometimes the most common indication that someone is drowning is that they don't look like they're drowning. They may just look like they are treading water."

Leave a comment
---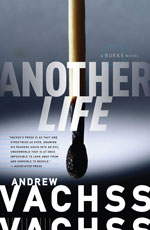 Just finished "Another Life," the 18th and final book in Andrew Vachss series of urban noir about the man called Burke. The book is from 2008, but I just reached the end of the series.
It's a gritty and not particularly "Christian values" kind of series. I wouldn't recommend it for just anyone. But I became enthralled with the world Vachss created in the heart of the Big Apple, and with the style in which he wrote.
The plot of nearly every book deals in some way with the abuse of women and children. In real life, both Vachss and his wife are crusaders in this arena. As an attorney, Vachss exclusively represents children and youth, and he founded The National Association to Protect Children. Some heart-wrenching stories, no doubt from Vachss's real-life cases, creep into the novels. Burke has pretty much a zero tolerance policy for anyone who abuses women or children.
The plot of "Another Life" involves finding a baby abducted from an Arab billionaire (who is also quite a pervert). In this finale, Vachss tried to reference many things from previous books, but it felt a bit clunky. Plus, there was quite a bit more "preaching" than in most books. Henning Mankell masterfully closed out his Inspector Wallander series (12 books) by bringing into the story nearly every major character from the series. But for Vachss, it just didn't work very well.
Nevertheless, I loved the series and will miss Burke and his most fascinating "family"–Max the Silent, the Mole, the Professor, Michelle, Terry, Clarence, the Gateman, Wesley, and Mama. Not to mention Burke's deadly dogs, Pansy and Daisy. A few books took Burke outside of New York City and away from his family (none of whom are related by blood). But those were the least interesting (to me) books, and I always welcomed when he returned to the city and his regular table at Mama's.
Vachss has written several other books since concluding the Burke series, including a book about Wesley, a legendarily dangerous man who appears in or is talked about in nearly every Burke book. I'll probably tackle that book next. He also wrote a book about a criminal named Cross, about whom Vachss has written a number of excellent short stories. I'm a fan of Cross, so if Vachss chooses to write a series about Cross, I'll most definitely tag along.

2 Comments
---
I grill a lot. Especially love doing ribeyes. I found an article which addresses 7 myths about cooking steaks. I learned a lot.
One myth is that it's bad to cut into a steak to see if it's done. I've heard this many times, but flagrantly disobey it. I will now do so with reckless and unrepentant abandon.

Leave a comment
---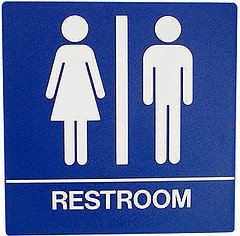 Michigan State University researchers camped out in public restrooms, and discovered that only 5 percent of people properly washed their hands long enough to kill germs. The 12 researchers observed 3700 people.
What's really creepy is the idea of researchers hanging out in public restrooms, watching what we do.
A few observations from their preying eyes:
10% skipped handwashing entirely (15% of men, 7% of women).
Only 50% of men and 79% of women used soap.
The average time spent washing hands: 6 seconds.
FYI, here's the "proper" way to wash your hands, according to the study.
Wet your hands with clean, running water and apply soap.
Rub your hands together to make a lather while scrubbing well.
Make sure you get the backs of your hands, between the fingers, and under the nails. Keep this up for 20 seconds.
Rinse under running water.
Dry with a clean towel or air dryer.
Then grasp the bacteria-infested doorknob and leave the restroom. (Okay, I added that last one.)

Leave a comment
---
Fort Gordon, an Army base in Augusta, Georgia, upgraded its land-mobile radios. Since then, nearly 500 residents have complained that their garage doors won't open.

Leave a comment
---
Interesting Pew study about why teens are losing interest in Facebook.
Too many adults are using Facebook.
They're annoyed when people post inane details about their lives.
They are drained by all the "drama" on the site.
It's too stressful managing their reputation on Facebook.
Other sites, like Twitter and Instagram, have fewer social expectations.
Facebook has become an exhausting extension of their everyday lives.

Leave a comment
---
I found this on Reddit.
Best Buy: See it in person before you buy it on Amazon.
Carnival Cruise: What are the chances something will happen this time?
Costco: When you're not sure what you want, but you know you want a LOT of it.
Radio Shack: Would you like some batteries with that? Pretty please?
Internet Explorer: Your number one browser for downloading other browsers
Google: You know we're just a step away from creating Skynet.
1 800 Flowers: the cheapest way to say you remembered your anniversary an hour ago.
Trojan: Tuition is very expensive.
Barnes & Noble: We don't have it, but we can order it. But so can you, and cheaper.
Gamestop: We'll give you 6 bucks for that 60 dollar game you bought yesterday
Fiji: It costs a lot to make a square bottle.
Denny's: Because its 2 am, you're drunk, and you need pancakes.
Adobe: An update is available
Motel 6: We will leave the lights on for you because we are in a dangerous neighborhood!
Dasani: Italian for "Coke just sold you water"
Walmart: Home of 53 registers, with only 3 open!
Facebook: We know more about you than you do
Blockbuster: Remember us?
Applebee's: For when you're too lazy to prepare your own frozen food
White Castle: It's Food…Technically.
Comcast: Rewarding loyal customers with ever-increasing rates since 1963.

Leave a comment
---