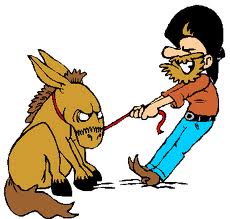 An utterly fascinating and insightful article in the Pacific Standard about how people respond to political arguments. Clear ramifications for Facebook and probably theology.
People tend to interpret information in ways that confirm their existing beliefs, and when confronted with arguments to the contrary, they may dig in even deeper. Why? It's all about self-image. If they accept information showing that one of their cherished views is wrong–information showing that global warming is man-caused, that abortion is wrong, that Obama's birth certificate is valid, that affirmative action is detrimental, that torture is immoral, that gun crime is decreasing–then how many other things are they wrong about?
To preserve their sense of self-worth, people evaluate information to avoid having to admit that a view is wrong. Only very secure people can accept a view contrary to what they have previously espoused, without damaging their self-worth.
One study found that when people are presented with information which contradicts their ideology, those who most strongly identify with the ideology actually intensify their incorrect beliefs. For example, when shown that the Bush tax cuts didn't increase government revenue, conservatives who held that view became more entrenched in believing that the tax cuts DID increase revenue. That's one example.
I'm thinking about how this plays out on Facebook. When I present what I think is a killer argument about a certain political view, it just makes people who hold that view cling more stubbornly to that view. Unless they have a strong enough self-image to objectively evaluate the new information. Such people are refreshing to be around, yet sadly rare.
I'm guessing the same thing happens with people regarding theological views and other church-related views. You lay out clearly why the King James Version is outdated and inaccurate, and I'll cling even more strongly to the KJV as the only valid version.
Then I must ask myself: So, Steve, how's your sense of self-worth? Are you willing to change your views based on the weight of evidence or argument?
Leave a comment