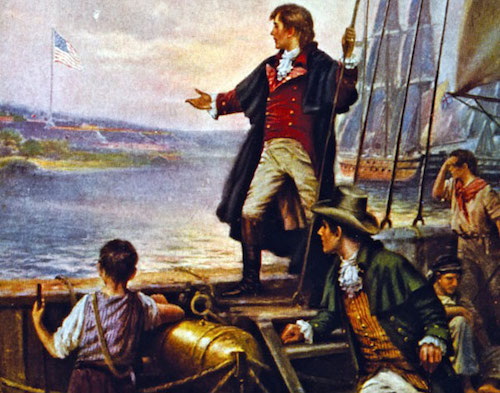 September 14 marked the 200th anniversary of "The Star Spangled Banner." Francis Scott Key wrote the lyrics after watching the British bombard Fort McHenry during the War of 1812.
The United Brethren denomination takes a lot of pride in the fact that Francis Scott Key was a United Brethren member and Sunday school teacher. He and a United Brethren preacher named John Snook organized a Sunday school in Keysville, Md. Key donated songbooks and led the singing. Snook and Key also went on evangelistic tours together, with Key handling the music.
But history can be messy. In researching, I also discovered something we don't talk much about: Francis Scott Key was a slave owner who actively fought to keep slavery legal. As a lawyer he prosecuted various anti-slavery persons. In one case, his summation to the jury stated, "Are you willing, gentlemen, to abandon your country, to permit it to be taken from you and occupied by the abolitionist, according to whose taste it is to associate and amalgamate with the negro?"
However, Key was described as a "decent master" who emancipated seven of his own slaves and, sometimes, criticized slavery. Kinda like "benevolent dictator." He also helped found, in 1816, the American Colonization Society, which helped return freed slaves to Africa. However, his legal cases against slavery opponents continued into the 1830s.
The UB denomination took a strong stand against slavery way back in 1821.
So, Francis Scott Key is kind of a mixed bag. As a slave owner, what exactly did he mean by "the land of the free."
Leave a comment