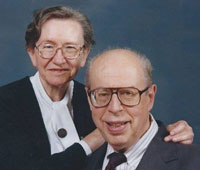 Rev. Burton Lange passed away on Monday morning, June 22. He was an amazing pianist, and funny as all get out. For 40 years, he pastored United Brethren churches in Pennsylvania and Virginia. He was a Huntington University alum, as was his youngest son, Jerry Lange.
In 1967, Burt Lange was the evangelist at Junior Camp at Rhodes Grove Camp and Conference Center in Chambersburg, Pa. He spoke each night and gave an altar call. One night some friends were going to the altar, and they nudged me to go with them. I did. I don't remember anything else about that night. It wasn't my night.
My night was the next night. That's when the Holly Spirit grabbed my heart. I got up to go forward. "You went last night," a friend said. "I know." And I kept going. That night, at age 9, I gave my life to Christ and haven't ever doubted what happened.
Several years ago, I reminded Burt Lange of this and thanked him for the role he played in my Christian life. "With your upbringing," he humbly told me, "if it wasn't me, it would have been somebody else." He's right. It would have been somebody else. But it wasn't. It was Burt Lange.
And so tonight I'm remembering that summer night, that walk to the altar, that old tabernacle which was torn down about ten years ago. And I'm remembering the counselor who awaited me on the other side of that altar, the man I knelt across from. The man I called last Sunday night to thank for being my Dad. I remember he was weeping. "Do you know what you're doing, Son?" he finally asked. "I think so," I replied. He explained some things to me, and then led me in a salvation prayer.
THAT was my night.
Burt Lange, and my Dad, classmates at Huntington College. Forever intertwined in my spiritual journey.
Leave a comment