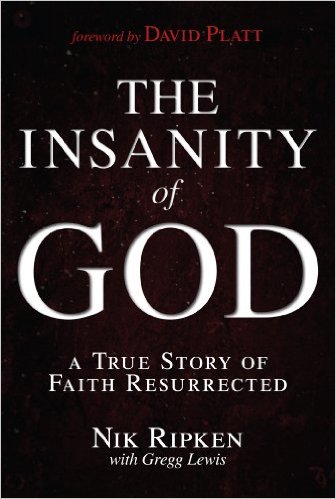 Nik Ripken spent six years ministering in Somalia, including during the Black Hawk Down episode. When he went, there was not a single church in all of Somalia, and not enough Christians in the country to fill a small church. When he left, there were only enough to fill a pew. His organization would feed a village, and the next day, Muslim rebels would attack and slaughter villagers BECAUSE they accepted help from a Western organization. Any Western organization was assumed to be Christian, and anyone working for them was suspected of being a Christian (which is why Ripken almost entirely employed Somalis with solid Muslim credentials).
Ripken would share his work with other Christian organizations. They would acknowledge the need, but would decline to get involved because of safety and security concerns. He understood, but….
One of the most profound spiritual experiences of Ripken's life was when he and two other Westerners shared a clandestine Lord's Supper with four Somali Christians. A few weeks later, all four Somalis were ambushed and killed in separate, simultaneous attacks. Death threats followed, and nearly all Western relief workers pulled out; within two months, their number plummeted from 70 to 4.
Ripken writes, "We stayed because we were convinced that Jesus was still there. Long ago, Jesus had explained that whatever we, as His followers, did for 'the least of these'–the hungry, the thirsty, the sick, the naked, and the persecuted–we did to Him. We believed that we were ministering to Jesus in the least of these throughout Somaliland."
But eventually, he, too, left–in despair.
Ripken's experience in Somalia led him to ask, as he states in the introduction, "Does God, in fact, promise his children safety?" He says he grew up with "the idea that obedience to God's call would result in a life of safety and security." He was told, as I remember hearing myself, "The safest place to be is right in the center of God's will."
To answer that question, Ripken decided to interview Christians who had lived under persecution–Russians during the communist years, and present-day Christians in China, Muslim nations, and elsewhere. Over a period of years, he visited many countries and interviewed nearly 1000 Christians who had lived under persecution. He tells many incredible stories in "The Insanity of God," the best Christian book I've read this year. I highly recommend it. The book blew me away.
In China, Ripken encountered Christians who asked him if people in other countries knew about Jesus. That's how isolated they were. Few house-church leaders had their own Bible. House-church leaders would meet clandestinely, and before leaving, they would rip up a Bible and give each house-church leader one complete book to take home. Ripken saw this happen.
Going to prison for three years was extremely common for Chinese leaders, almost an expected right of passage–the seemingly inevitable result of obedience to God. They viewed prison as their seminary. One large house-church movement, when Ripken visited, had over 400 members in prison at that time. Christians lost jobs, families were separated, and they faced incredible suffering and hardship.
Does obedience to God guarantee our safety? Absolutely not. But among these terribly "unsafe" persecuted Christians, Ripken discovered a dimension to their faith that was lacking in the West. They were partaking in the sufferings of the Lord–not the little things we in America inflate into a War on Christianity, but hardcore suffering and persecution. Although they knew obedience to Christ was unsafe, they obeyed anyway.
Ripken writes, "Ironically, avoiding suffering could be the very thing that prevents us from partnering deeply with the Risen Jesus."
Leave a comment