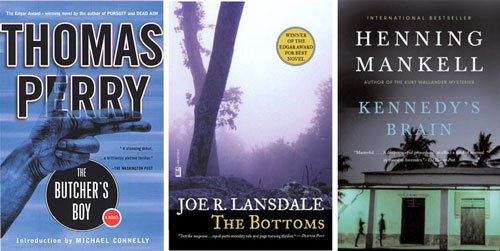 Here are three novels I read during the past couple of weeks. All very different, all very good.

The Butcher's Boy (Thomas Perry). This was Perry's debut novel, back in 1982, and it may still be his best. The book alternates between two storylines:
A hitman (the title character), whom you row to like.
A female FBI agent who believes a common killer connects two different murders, and tries to find him.
It's quite interesting. I found myself rooting for both characters–that the FBI agent would get her man, and that the Butcher's Boy would elude capture. An ending I wasn't expecting, but which delighted me.
The Bottoms (Joe Lansdale). This 2000 book won the Edgar Award for best novel. It's an incredible book. Set in the 1930s in east Texas, in an area called "The Bottoms." The story is told by a young boy, Harry, maybe 13 or so. One night he finds a dead body–a black woman who has been mutilated. Other similar bodies turn up. So they've got a serial killer in the Bottoms.
But what makes this story great is the interplay between the black and white communities. Lansdale makes you practically experience the subjugation of blacks, the total control wielded by whites. The racism of that time comes to life in Lansdale's book. I can't recommend it enough.
Kennedy's Brain (Henning Mankell). This is the first Mankell book I've read that didn't involve Inspector Kurt Wallander. The story involves a mother who sets out to prove that her 25-year-old son didn't commit suicide, but was murdered. Her quest starts in Sweden, but takes her to Australia, Spain, and then southern Africa, where a good chunk of the book takes place. It's a strange book, in ways, but compelling. The book didn't really end…and yet, I'm satisfied with that. It seemed appropriate.