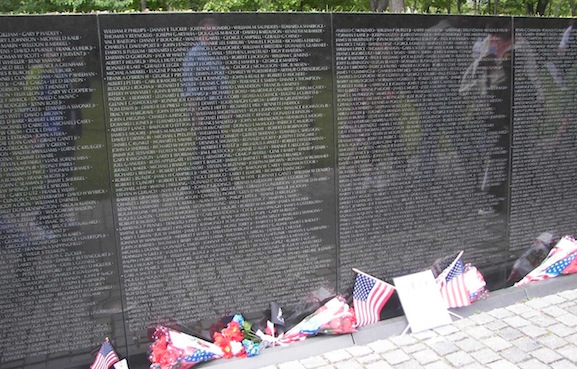 In October, Pam and I visited the Vietnam Memorial in Washington, DC. It was my third visit, Pam's second. It's easily my favorite of the war memorials. David Atherton recently posted some interesting facts about the wall. I thought others might be interested.
There are now 58,267 names on the wall. They are arranged according to the date on which they were killed, and alphabetized within that date.
The first known casualty was Richard B. Fitzgibbon, from Massachusetts. He was killed June 8, 1956. His son is listed, too–Sept. 7, 1965.
There are three sets of fathers and sons on the Wall.
Over half, 33,103, were age 18. There were 12 soldiers age 17, and 5 age 16. One soldier, PFC Dan Bullock, was 15 years old.
997 soldiers were killed on their first day in Vietnam.
1,448 soldiers were killed on their last day in Vietnam.
31 sets of brothers are on the Wall.
54 soldiers attended Thomas Edison High School in Philadelphia.
8 women are on the Wall.
Of the 244 soldiers awarded the Medal of Honor during the Vietnam War, 153 are on the Wall.
West Virginia had the highest casualty rate per capita in the nation, losing 711.
All 9 graduates of Morenci High, in an Arizona mining town, enlisted in the Marines, starting in 1966. Only 3 returned home.
The most casualty deaths for a single day was January 31, 1968 ~ 245 deaths.