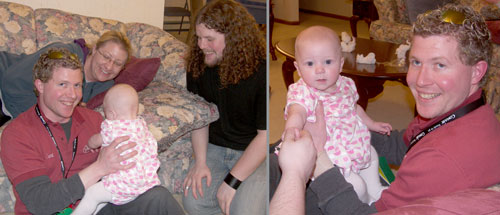 Rick's kids, Anna and Cameron, are on spring break, so he took the week off and brought them–along with Baby Ally–to Fort Wayne for a few days with Mom and Dad. Dorene remained in South Bend, working.
Stu and Joyce and their clan came over Monday night for a meal at Mom and Dad's. Homemade noodles and Mom's legendary rolls were the headliners.
But the real star was Ally. Everyone took turns holding her. For the record, Ally is the first of my nieces and nephews that I have held as a baby.
Last night Rick and I trekked to the table tennis club. He plays at the South Bend club (which cranks out nationally-ranked players), and we're both playing in a big tournament in South Bend this weekend.
Rick has come to my club three or four times now, and enjoys it. Last night he won the majority of his matches, including the one against his big brother (we play the best of five games, and our match went down the wire to the fifth game). It is against the natural order of things for Rick, eight years my junior, to best me. I remain deeply resentful.