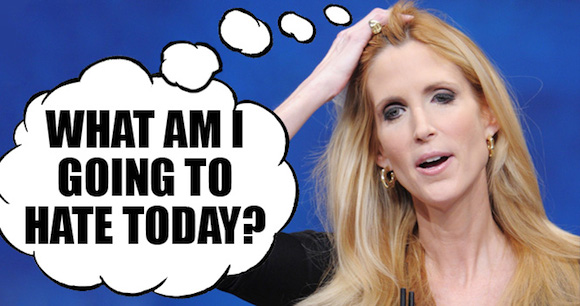 I just came across some of the most putrid writing I've ever seen, from a person adored by many Christians and who is regularly allowed to spill her sludge on FoxNews. It's Ann Coulter, writing about Dr. Ken Brantley, the Samaritan's Purse doctor who contracted Ebola while ministering to Ebola patients in Liberia. Her column is titled, "Ebola Doc's Condition Downgraded to 'Idiotic.'"
Coulter clearly knows nothing about the Great Commission, about the call to missions, about sacrificing for Christ, about serving "the least of these." Her disgusting column attacks Dr. Brantley for, basically, grandstanding while America burns.
"Why did Dr. Brantley have to go to Africa?…Can't anyone serve Christ in America anymore?…If Dr. Brantley had practiced at Cedars-Sinai hospital in Los Angeles and turned one single Hollywood power-broker to Christ, he would have done more good for the entire world than anything he could accomplish in a century spent in Liberia….If he had provided health care for the uninsured editors, writers, videographers and pundits in Gotham and managed to open one set of eyes, he would have done more good than marinating himself in medieval diseases of the Third World….

"Serving the needy in some deadbeat town in Texas wouldn't have been 'heroic.' We wouldn't hear all the superlatives about Dr. Brantley's 'unusual drive to help the less fortunate' or his membership in the 'Gold Humanism Honor Society.' Leaving his family behind in Texas to help the poor 6,000 miles away — that's the ticket….There may be no reason for panic about the Ebola doctor, but there is reason for annoyance at Christian narcissism."
Christian narcissists? Is that her view of missionaries? Of their motivations?
My heroes have always been missionaries. I've known and written about two of our own United Brethren missionaries who were subjects of emergency evacuation from West Africa, and about another who died there. Which is why I take this so personally and react so strongly.
Jesus, who called Dr. Brantley to serve Him in Africa, has a whole different view…a view about which Ann Coulter is clueless.