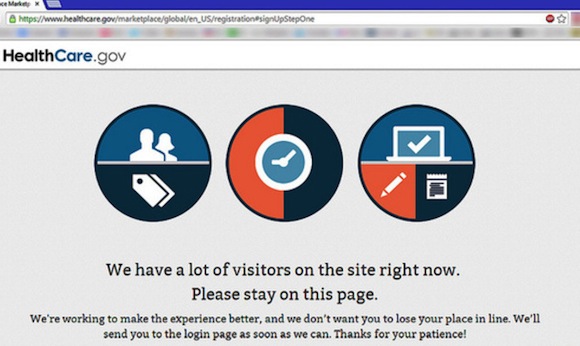 They goofed big-time with the sign-up process at Healthcare.gov. I went through the registration process twice last night, yet still couldn't log in. I tried both accounts this morning, and still no luck. Says my username or password are wrong, and I KNOW they aren't. So I created a third account this morning…same thing. I'm rapidly approaching the definition of insanity.
These are not fatal flaws–just technical glitches that can be fixed. But it's a PR fiasco in getting Obamacare started. I'm sure millions of users are frustrated. And the wait times are unacceptable. Makes me seriously wonder, considering the virulence of the opposition, if some high-tech sabotage is occurring.
My interest is only curiosity. The exchanges are for the minority of people who either don't have insurance or who buy insurance on their own. Most of us get insurance through our work, and it's generally better insurance than the exchanges offer. But I did want to compare costs, out of curiosity, and so far I've not been able to get that far.
Fortunately, there's plenty of time. Obamacare coverage doesn't start until January 1, and people can sign up through March. Hopefully they'll fix the site to allow for the traffic, which should have been expected and is totally capable of being handled.
Having said that–I've been using the Healthcare.gov website for several weeks to do research. It's well designed, very user friendly, easy to navigate, and clearly written. The sign-up screens are very user-friendly. I'm quite impressed overall. I experienced no problems until October 1, when the sign-up began. They just have some major functionality and bandwidth issues with the enrollment process.
Leave a comment