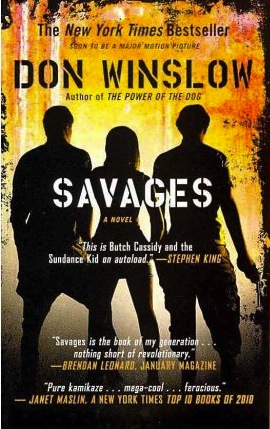 Don Winslow's novels, I can say after reading four of them, have these things in common: a southern California setting, very well-defined and distinctive characters, snappy dialogue, plots that aren't predictable but tie up everything at the end, and first-rate wordsmithing.
Such was, as I expected, the case with "Savages," Winslow's contribution to crime literature in 2010. It's not my favorite Winslow book. That still belongs to "The Winter of Frankie Machine," my favorite book of 2010. But "Savages" is a close second, better than "The Dawn Patrol" and "The Death and Life of Bobby Z,", and it deserves every kudo it gets:

"This is Butch Cassidy and the Sundance Kid on autoload"–Stephen King.
"Pure kamikaze…mega-cool."–Janet Maslin.
A "marvelous, adrenaline-juiced roller coaster of a novel." Sarah Weinman
"Super hip, wildly funny, supremely smart and sexy."–Joseph Wambaugh
"Razor sharp plot twists, a cast of ruthless antiheroes…."–Janet Evanovich
"Blisteringly original."–Jon Land
Ben and Chon are laid-back partners in a major marijuana operation based in Laguna Beach. They grow the best dope money can buy, using seeds Chon brought back from Afghanistan which were expertly altered by Ben's genius botanical skills. Ben, the head of the operation, abhors violance. Whenever he can, Ben takes off for Africa or Indonesia or elsewhere to engage in humanitarian or environmental philanthropy. Not your stereotypical ruthless drug lord. Like I said, Winslow draws distinctive characters.
The ruthless part belongs to Chon, a former Navy SEAL. He's a good guy, but has no aversion to violence. He is described as having "Post-Traumatic Lack of Stress Disorder." Distinctive character Number 2. People don't mess with the peaceable Ben, because they don't want to tangle with Chon.
And then there's O (short for Ophelia), the wild-child girl they both love, and who loves them both, forming a fairly strange but workable triangle. Distinctive character, distinctive relationship.
The Baja Cartel, headed by a pragmatically ruthless woman named Elena, wants to take over Ben and Chon's operation. To force the issue, they kidnap O. Ben (especially) and Chon prefer to avoid violence, but here, it's just not possible. And it goes from there.
The point of view shifts among the various characters, but primarily Ben, Chon, O, Elena, and Elena's merciless strongarm, Lado. Ben and Chon will do anything to get O back. That pretty well sets the course for the novel.
The writing style is choppy, unlike the other Winslow novels I've read. Choppy in a good way. Very short chapters, occasionally nothing more than a word or two. Sentences that drift off without a period. Scenes suddenly put in the form of movie script dialogue. Avante garde stuff, but not too much so–not to the extent that it's difficult to follow, pretentiously artsy, or just wierd.
Winslow tucks nuggets of humor, pop-culture references, and creative turns of phrases into nearly every nook and cranny. As a writer who appreciates really good writing, I didn't want to skip or skim, because I might miss something brilliant. It's as if, with every sentence, Winslow pondered, "How can I make this sing?"
For the faint of heart: the book is laced with profanity, sex, extreme violence (beheadings and more), and drugs. Ben, the good-hearted marijuana genius, is the only character with redeeming qualities, and with him it's definitely a mixed bag.
This book was a pleasure to read (though it didn't read like any of his other books). Not just because of the roller-coaster plot, or the engaging characters, but because Winslow took such care in putting words together. The writing alone entertained me.
I guess, bottom line, the book is about a relationship–Ben, Chon, and O. It didn't end where I thought it would end. Not even close. But when I turned that last page, I knew I'd just finished something very, very special.