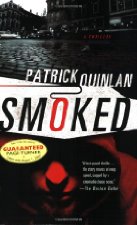 I found Smoked (2006) at Half-Price Books, and I more than got my money's worth. Three years ago, bombmaker Smoke Dugan made off with $2.4 million, and his employers want it back. He disappeared, but now has been located in Maine.
Denny Cruz, a proficient hitman who is having second thoughts about his chosen profession, is sent to capture Dugan. Accompanying him, against his wishes, are two other killers who may or may not have been told to also kill Cruz–Cruz isn't sure. They capture Dugan, he escapes, and then the fun begins.
Lola Bell, Dugan's karate-loving girlfriend, gets dragged into the plot, as does Lola's roommate, mousy librarian Pamela. Two hapless pornographers, through an unrelated incident with Lola, in which she got the best of them, also get involved.
Smoked is told through shifting points of view, always third-person. A single scene may be told from several different perspectives. There is one marvelous scene, a shootout, in which Dugan, the three hitmen (with Lola in tow), and the pornographers all converge from different directions. We see the action from every one of these seven persons' eyes. We watch as one man walks over to another man lying on the ground, preparing to shoot him, and then the point of view shifts to another person, and we see what happens next through that person's perspective.
It works very well, mainly because Quinlan does such a good job of defining interesting characters. Each of these characters are real, believable persons, and you grow to like each one in their own disturbed way.
You can't predict what's going to happen. Everyone gears up for a particular event or confrontation, but then something happens and the plot veers in another direction. There is plenty of humor, plenty of action, and Quinlan keeps your attention. Smoked is a little bit Carl Hiaasen and a little bit Duane Swierczynski.
This was Patrick Quinlan's debut novel. He has since written several more books since. I'll keep on the lookout for them.