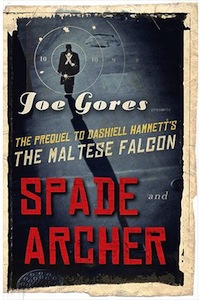 I didn't have high hopes for "Spade and Archer," even though it is published under the Black Lizard imprint, which rarely disappoints. A prequel to Dashiell Hammett's classic "The Maltese Falcon"? Really? Who exactly is Joe Gores? And who gave him permission to use Hammett's characters?
Actually, Hammett's surviving daughter gave permission. Gores approached her in 1999 about doing a prequel, and she said no. Then in 2004, she approached him about a sequel. He said no, but restated his interest in writing a prequel. She finally said yes in 2006, and the book was published in 2009.
When "The Maltese Falcon" opens, Sam Spade had been a detective for many years. Gores says, "I wanted to find out for myself who Sam Spade was when he started out–how did he become this iconic figure? Every private eye who I've known, including myself, thinks Sam Spade is the ideal detective."
Spade set the pattern for hundreds of private eyes to come (most notably, Philip Marlowe and Lew Archer). He prefers to work alone. He has a love-hate relationship with cops (usually on their bad list). He's a tough guy.He's a ladies' man. He notices things other people miss. He flaunts a sarcastic wit. And he doesn't mind working outside the law. Gores brings all of this to vivid life.
The book spans a seven-year period, 1921-1928. The book begins as Sam Spade, after serving in World War I, is concluding his final case with the Continental Detective Agency. Spade sets up his own detective agency in San Francisco, and brings aboard Effie Perine as his, as they would say today, administrative assistant.
The book has three parts–the first cases in 1921 (a gold heist and a runaway boy), a second batch in 1925, and a final set in 1928 after Archer joins the firm (these involving thievery on the waterfront and lost money raised for Chinese leader Sun Yat-sen). The opening case involved gold stolen from a ship which had just arrived in San Francisco harbor from Australia via Hawaii. From this case emerges a villain named St. Claire McPhee who gets away, but who is never forgotten by Spade. He keeps arising as we go through the book. That gives a continuity thread.
The cases are all quite interesting, and not so complicated (as are some of Hammett's plots) that you lose track of what's happening.
About two-thirds of the way through the book, Miles Archer, an old friend, joins the firm. Spade and Archer's gorgeous wife, Iva, have periodic flings. Though, since Gores is writing in the style of Hammett, the trysts are only implied and always off-camera.
Another reviewer, Dan Faust, wrote, "Gores manages to do something that Hammett couldn't: he got me to connect with Sam Spade."
I completely agree. The Spade drawn by Gores is a much more interesting and fully developed character than Hammett gave us. After finishing this book, I read the short story, "A Man Called Spade," one of three short stories about Spade written after "The Maltese Falcon" (because fans clamored for more Spade, and Hammett needed the money). That piece didn't tell me much about Spade. Instead, I found myself inserting the mental picture of the man I crafted from reading "Spade and Archer."
Bottom line: I really, really liked "Spade and Archer." The plots–a series of plots, all dispatched in good time–were interesting and easy to follow. I found myself feeling like I was in 1920s San Francisco (Gores obviously did bountiful research).
The book ends with Effie Perine announcing the arrival of a potential new client, Wonderly, who gets "The Maltese Falcon" started. The last few paragraphs of "Spade and Archer" are identical to the opening paragraphs of "The Maltese Falcon." That was a nice touch, and does nothing to spoil for you "Spade and Archer."