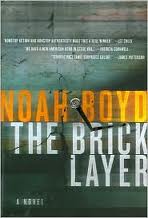 "The Bricklayer" is Noah Boyd's debut novel, and it's a great one. Lee Child, James Patterson, and Patricia Cornwell all praise the book in cover tributes.
The title character is Steve Vail, a former FBI agent who can't stomach incompetent persons in positions of authority, which is why he quit (or was fired from) the FBI a few years back. But he was a very good agent. Now, he's a bricklayer in Chicago.
Now, the FBI is being totally stymied by a series of murders, accompanied by extortion demands, from what appears to be a gang of maybe five people (based on the name they go by). Vail is recruited to try to find the bad guys, using somewhat off-the-books methods (since nothing official is working).
The plot moves along at a good pace, with plenty of twists and turns to keep the reader off-balance. A variety of characters enter the picture, and you wonder if any of them are bad guys in disguise. Vail works alongside Kate, a senior FBI agent who is, of course, beautiful. They have some adventures together, following leads which the FBI brass have either written off or don't know about.
I pretty much guessed how the book would end up, but it was a lucky guess. This is a very, very good book. You'll enjoy it. He's got another book about Steve Vail in the works, too.