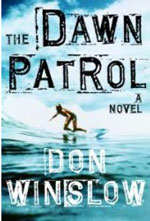 Don Winslow is becoming one of my favorite authors. "The Winter of Frankie Machine" is the best book I've read in 2010. "The Life and Death of Bobby Z" was pretty good. And now I've finished "The Dawn Patrol." All are Vintage/Black Lizard imprints.
"The Dawn Patrol" (1978) centers around Boone Daniels, a well-known surfer in San Diego who works, when he feels like is, as a private investigator. He's a former cop with an aversion to authority.
An insurance company hires him to investigate a possible insurance scam. The book meanders around with a laid back, southern California vibe. There is no hurry to anything. A woman is murdered, a child prostitution ring is unearthed, various criminals set their sites on Boone, and there's lots of drama involving Boone, his old flame Summer, and Petra, the beautiful insurance company rep who tags along as he does his investigative thing.
The title "dawn patrol" consists of five surfers–four men (including Boone) and one woman (Summer, the best surfer of all). A distant tsunami is sending some big waves to San Diego, and none of them want to miss out. Boone fears that his PI gig will get in the way.
"The Dawn Patrol" is not nearly as good as "Frankie Machine," but it was enjoyable. Maybe a bit too slow-moving for my tastes, but I do admire Winslow's word-smithing capabilities.