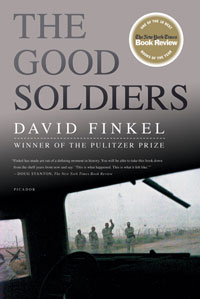 The Good Soldiers (2009) opens with this paragraph, and you immediately realize you're in for a literary treat.
His soldiers weren't yet calling him the Lost Kauz behind his back, not when this began. The soldiers of his who would be injured were still perfectly healthy, and the soldiers of his who would die were still perfectly alive. A soldier who was a favorite of his, and who was often described as a younger version of him, hadn't yet written of the war in a letter to a friend, "I've had enough of this BS." Another soldier, one of his best, hadn't yet written in the journal he kept hidden, "I've lost all hope. I feel the end is near for me, very, very near." Another hadn't yet gotten angry enough to shoot a thirsty dog that was lapping up a puddle of human blood. Another, who at the end of all this would become the battalion's most decorated soldier, hadn't yet started dreaming about the people he had killed and wondering if God was going to ask him about the two who had been climbing a ladder. Another hadn't yet started seeing himself shooting a man in the head, and then seeing the little girl who had just watched him shoot the man in the head, every time he shut his eyes. For that matter, his own dreams hadn't started yet, either, at least the ones that he would remember, the one in which his wife and friends were in a cemetery, surrounding a hole into which he was suddenly falling; or the one in which everything around him was exploding and he was trying to fight back with no weapon and no ammunition other than a bucket of old bullets. Those dreams would be along soon enough. But in early April 2007, Ralph Kauzlarich, a US Army Lieutenant colonel who had led a battalion of some 800 soldiers into Baghdad as part of George W. Bush's surge, was still finding a reason every day to say, "It's all good."
Isn't that some amazing writing?
The Good Soldiers follows an army battalion during their 15-month stint in Baghdad, at the beginning of the surge. These soldiers were stationed in a bad neighborhood of Baghdad (was there a good one?), and under almost constant assault. Here's a lot of military lingo to identify who exactly they were: 2nd Battalion, 16th Infantry Regiment of the 4th Infantry Brigade Combat Team, 1st Infantry Division, also known as the "2-16 Rangers."
David Finkel, a Washington Post reporter, was embedded with this battalion in 2007. The year before, he won the Pulitzer Prize for a series of articles about a US effort to encourage democracy in Yemen. The Good Soldiers made just about everyone's list of the best books of 2009.
The central character is Ralph Kauzlarich, the battalion commander. He's a good guy, very competent, a veteran soldier. He knows what he's doing, and is a real leader.
Before the tour was done, 14 soldiers had been killed, and we are privy to the details of every death. Many others–many–are wounded. We watch as numerous explosive devices ravage vehicles and maim the occupants. Legs and arms and hands are sheared off. This happens over and over and over, and we watch. It becomes excrutiatingly disturbing…which is Finkel's point. This is what American soldiers dealt with constantly. We need to know. One soldier took a sniper's bullet, but all of the other deaths came from explosive devices.
We come to understand counter-insurgency tactics, and how they worked and didn't work. We see the frustrations of working with Iraqi leaders, while getting acquainted with some highly admirable and heroic Iraqis who risk their lives for Americans.
We follow David Petraus to Washington to be grilled by showboating Congressmen, and watch him deal admirably and calmly with the circus.
We follow Kauzlarich to San Antonio, to the amazing Brooke Army Medical Center. There, he meets with a number of his soldiers who are recuperating; most have lost at least one limb. One soldier had lost all four limbs. These are moving, troubling encounters. Again, it's a product of war-waging which Finkel want readers to understand. But the hospital, with its Wounded Warriors program and its Center for the Intrepid, is also an inspiration. In dedicating the facility, the chairman of the Joint Chiefs of Staff stated, "There are those who speak about you who say, 'He lost an arm. He lost a leg. She lost her sight.' I object. You gave your arm. You gave your leg. You gave your sight. As gifts to your nation. That we might live in freedom. Thank you."
Back in Iraq, we read in detail about the time two journalists, their cameras mistaken for weapons, and Iraqi civilians are attacked by a US Apache helicopter, an incident caught on tape and made scandalously famous. Eight men were killed. Finkel was there. His account is captivating.
I was halfway through the book before I realized something unusual Finkel was doing.
In War and Generation Kill, two other excellent books about the Iraq/Afghanistan wars, the authors did a great job of bringing soldiers to life. We were told what they looked like, their mannerisms, their childhood, their families, what they were doing before before entering the military–everything about them. Their ethnicity, obviously, was an important element in the character portrait–black? Hispanic? American Indian? Most reporters follow this approach. I would.
But Finkel didn't. He never called attention to race or ethnicity. Never described someone as African American, or Hispanic, Asian. Never even called attention to class–if they came from a poor, middle class, or wealthy home. They were just soldiers. When he gave background information, it was race-neutral and class-neutral, able to apply to a white or black or Hispanic, rich or poor, southern or northern, urban or rural. Being a good reporter, Finkel knew everything there was to know about these soldiers. But while he was able to describe them as compelling individuals, he left race and class out of it.
This also applied to gender. He never identified a soldier as a woman. He didn't write, "The doctor, a woman, applied a tourniquet…." No, he wouldn't call attention to gender. He would just write, "The doctor applied a tourniquet, and then she…." You learned it was a woman only when he used a feminine pronoun.
To Finkel, everyone was just a soldier. A "good soldier." It was a fascinating, and effective, choice.
In the very back of the book, I eventually discovered photos of the soldiers who were killed, all 14 of them. Photos of a few other soldiers were scattered throughout the book. Only then did I know ethnicity. And you know, it didn't make any difference. They were just soldiers, doing their job and dying for their country, sometimes in horrible ways.
This was a remarkable book, as I had heard it was. There are many books by embedded reporters or officers which tell the story of individual units in Iraq or Afghanistan. I've read several–Joker One, War, Generation Kill–and they are all excellent. I don't want to say The Good Soldiers is better than those books, because they are all well-written and engaging, and leave an emotional wallop. But there is, indeed, something special about The Good Soldiers.