"Brimstone" is Robert Parker's third Western involving Everett Hitch and Virgil Cole. The books are told first-person by Everett Hitch, a West Point graduate and former Army officer who happily plays sidekick to Virgil Cole, a renowned gunfighter. The duo, together for 20 years, bounce from town to town as mercenary lawmen. If your town needs cleaning up, they can get it done.
The first book, "Appaloosa," was made into a movie in 2008 starring Ed Harris as Cole and Viggo Mortenson as Hitch, with his ever-present double-barrel eight-gage. The casting was perfect. Every piece of dialogue in the three books I can see coming from the mouths of those actors (just as I can see Tom Selleck saying every line of dialogue in Robert Parker's "Jesse Stone" books).
For me, the centerpiece of the book is the relationship, and dialogue, between Cole and Hitch. They're a compelling duo, who understand each other deeply, can be blunt with each other, and never need to say much. Like Spenser and Hawk in Parker's premier series (yet not like them at all), Cole and Hitch are a unique, fascinating pair.
"Brimstone" begins with Cole and Hitch searching for Cole's love interest from "Appaloosa," Allie French. The find her working as a prostitute (as they expected). Will Cole keep her? Can she be redeemed? That is one thread of the book.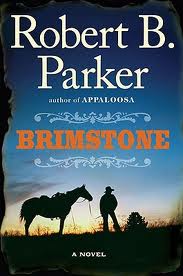 Cole and Hitch, with Allie in tow, hire on as town marshal and deputy in the fast-growing town of Brimstone. In these westerns, there is no mystery to be unraveled, as in the modern-day Parker books. Rather, everything leads to a showdown. The players are identified early, and you realize they will inevitably clash with deadly consequences.
In "Brimstone," the opposing force is Pike, a rich saloon owner with an outlaw past. Throw in a charismatic preacher with a God-complex, and an Indian killing people for no discernible reason (the only real mystery), and you've got quite a bit packed into 290 pages.
The book includes an excerpt from a fourth Cole-Hitch book, "Blue-Eyed Devil." I'm delighted. Robert Parker died last year, so I feared that Brimstone might be his last Western (though I had read that he had one additional book in each of his four series ready to go). Now, if they'd just get busy making "Resolution" and "Brimstone" into movies.