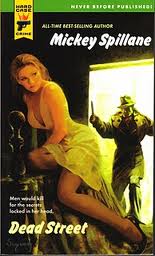 I just read my first Mickey Spillane novel, and it's not at all what I expected.
My image of Spillane goes back to the 1970s, when I was a teenage kid and would see risque book covers by such authors as Spillane and John D. MacDonald. Judging a book by its cover, I assumed they were tawdry, sex-filled books, and being a good preacher's kid, that didn't interest me. Besides, back then, all I cared about was science fiction.
But mysteries have been my primary interest for 20 years. About ten years ago I discovered the older pulp fiction and was delighted by the plots, characters, and relative lack of sexual content. Hammett, Chandler, Whittington, Goodis, Willeford–good stuff.
In 2004, a line of paperback hardboiled crime novels was launched called Hard Case Crime. Most feature covers which hark back to the golden age of pulp fiction, with beautiful women in peril, and not necessarily well-clad. The series, now up to 70-some books, features pulp fiction writers of decades past (Charles Williams, Gil Brewer, David Goodis, Brett Halliday), along with established or promising contemporary writers of the genre.
One of the first Hard Case Crime books was Stephen King's, "The Colorado Kid." I knew Stephen King, knew what to expect. It was a decent book (though he should stick to horror), and I decided to try other Hard Case Crime books. To this point, I've read 19 books in the imprint.
At Half-Priced Books, I came across "Dead Street," by Mickey Spillane. I started reading it last night, with ingrained assumptions, and was immediately hooked. The guy can write!
The story is told first-person by Jack Stang, a retired NYPD cop. Twenty years ago, his fiance was abducted by mobsters and presumed dead. Now he discovers that she was found–blind, and with no memory–by a veterinarian who took her in and cared for her. Bettie is now living in a Florida community populated mostly by retired NYPD cops and fireman, and the vet has arranged for Stang to move into a house next to her.
So he moves to Florida, immediately encounters Bettie, and long-buried memories are triggered. Bettie knows nothing about her past relationship with Jack, or her previous life in general. But scraps keep surfacing.
Of course, mobsters had abducted Bettie for a reason, wanting something she could give–but were foiled in their efforts. If they learn that she's still alive, they'll come after her. And of course, they do.
In trying to track down the mystery of why Bettie was abducted, Stang makes several trips back to New York. The story gradually unravels. There's action and killing. But there are also long passages where it's just Jack and Bettie talking. I'm very impressed by how Spillane constructed this book.
Spillane died in 2006, with "Dead Street" mostly done. Max Allan Collins finished it, using Spillane's extensive notes, and Hard Case Crime published "Dead Street" in 2007. It's really a wonderful book. with practically no sexual content and minimal obscenity (for a contemporary book). I couldn't put it down, and finished the 207 pages in half a day.
I don't know what Spillane's other books are like. Perhaps the Mike Hammer series, for which he's best known, is more in line with the slutty covers of that era. But maybe not. "Dead Street" had the restraint, sexual and otherwise, of detective fiction from the 1940s and 1950s, even though it was written in recent years. I need to spot-check another Spillane book to see if it delights me as much as "Dead Street" did.