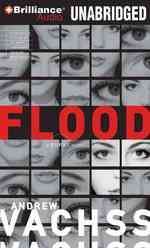 This is the first of the 18 "Burke" novels by Andrew Vachss. It was first published in 1980. Now, all 18 books are part of the Black Lizard imprint from Vintage Books.
"Flood" is the name of a young woman who seeks Burke out in her quest to track down–and wreak vengeance on–a pedophile who calls himself the Cobra. Flood is highly trained in the martial arts, but lacks the know-how for navigating the New York City underworld, which is Burke's specialty.
Along the way, Burke deals with two mercenaries with a huge shipment of weaponry to sell, a pimp named Dandy who is beating on his girl, and a guy who makes snuff films.
I previously read the fourth book in the series, "Hard Candy." It's much grittier, darker. The Burke in "Flood" is squeamish about killing people, about leaving forensic evidence, and about using violence in general. Not so with the Burke of "Hard Candy." But "Flood" is the better book.
Andrew Vachss, in his 18 "Burke" novels, continually draws attention to issues of child abuse, pedophilia, violence against women, and other sexual abuse. Mention "pedophile," and Burke goes on the warpath.
Burke is an expert in urban survival and living beneath the radar. He runs with a collection of very interesting characters, including:
Max the Silent–a mute, hulking warrior from Nepal.
The Mole–a genius who lives beneath a junkyard.
Michelle–a transvestite prostitute.
The Prophet–an eccentric guy who is the closest thing Burke has to a father.
Now I'm going to read the 2nd and 3rd books in the series, and see if I want to read more. I suspect I will.