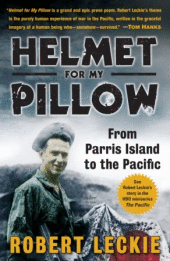 I've been reading World War 2 books since fifth grade, when I read William Shirer's "The Rise and Fall of Adolf Hitler," a book that, truthfully, was lost on me at that age.
In all my reading, I never got around to reading some of the major memoirs from the Pacific war. Three books are usually mentioned: "Helmet for My Pillow," "With the Old Breed," and "Guadalcanal Diary." I read the latter in high school, but never read the other two. A serious oversight.
However, the new "Pacific" series is based partly on those two books, so they've been republished. I figured they would show up at Sam's Club, which is the cheapest place to buy books. And last weekend, "Helmet for My Pillow" did.
So I bought it, and read it. At 300 pages, a fairly quick read.
I was expecting more of a battlefield book. But Robert Leckie, who enlisted the day after Pearl Harbor, sort of partied his way through a lot of the war, pulling pranks, absconding with food, and getting into all kinds of mischief. He was on Guadalcanal, but didn't see the heavy action most soldiers did. That was followed by about 10 months of what he called "The Great Debauch" in Australia. In New Britain, he killed three Japanese on a jungle trail. Then, on Peleliu, he really got into thick combat, and was eventually wounded. That ended the war for him.
Leckie is an excellent writer, a journalist even before enlisting. I enjoyed the book and never lost interest. And yet, I'm not sure why this is regarded as a classic.