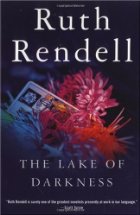 It's easy to recognize Ruth Rendell's writing. The prose is elegant, and it's restrained, with strong emotions held in check. When violence occurs, it happens in an almost incidental way, without fanfare. The violence emerges from a well-defined character, and seems totally natural. The fact that she's a British writer completes the description.
I just finished my fifth Rendell book, "The Lake of Darkness." Martin Urban wins a large chunk of money and decides to give half of it away to selected people in need–a task which is more difficult than it would seem. Along the way, he strikes up a romance with a young woman named Francesca, who is quite a bit of a mystery.
Occasionally, the narrative switches to Finn, a strange guy caring for his demented mother. Finn is also a killer. The Finn and Urban storylines, obviously, eventually intersect.
The book moves along slowly, yet purposefully. Rendell develops her characters well, and you begin guessing where things are headed. I wasn't surprised by the ending, but I wasn't sure just where it would end up.
I prefer lots of action and less description. And yet, Rendell is such a doggone good writer that I'm perfectly willing to plod along with her.