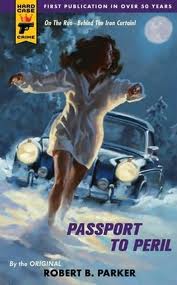 You may be surprised that Robert B. Parker wrote "Passport to Peril" in 1951. That's because we're not talking about the Parker of Spenser and Jesse Stone fame, but of Robert Bogardus Parker, who wrote three books before dying in 1955 at age 49.
"Passport to Peril" (a silly title) was republished by Hard Case Crime in 2009. It doesn't really fit the imprint, because the book is more of a spy novel. Our protagonist, Blaine Stodder, is bound for Budapest, Hungary, now firmly in the grip of the Soviet Union. He's looking for his brother, who disappeared in Hungary during World War 2.
But on the train to Budapest, he's thrust into a plot involving a man who was murdered for the contents of a manila envelope, which now comes into his possession through an encounter with a beautiful women (all women in spy novels are beautiful). He doesn't know what's happening, just that a German named Schmidt wants the envelope, and Russians want it, a Polish countess wants it, and a couple of American agents want it, too.
Blaine makes his way through post-war Budapest, not sure whom to trust, eluding Russians, searching for that original woman from the train, and trying to figure out what the envelope is all about. The book was an enjoyable ride, but nothing great.
Of more interest to me is Robert B. Parker, himself. Working as a journalist, before WW2, he covered the civil war in Spain and the 1937 invasion of China by the Japanese. He accompanied the German Army on its invasion of Poland in 1939, rode with an armored division of Hungarians during the invasion of Russia, traveled with the Russian army, helped free European Jews from prisons, and had other adventures covering the war from the "other side of the lines." All this time, he was also an operative for the American OSS (the predecessor of the CIA). Interesting fellow.