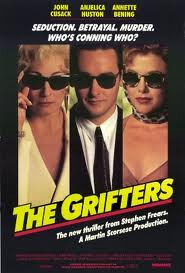 "The Grifters" is a 1963 book by Jim Thompson (published by Vintage/Black Lizard in 1990). It focuses on smalltime con-artist Roy Dillon, along with his girlfriend Myra Langtry and mother, Lilly Dillon, who are also con artists. There are no "good guys." Everyone's a crook.
The book has no plot, per se. We're just dropped into their lives and watch things happen to them. You know events will lead up to a climax of some kind, but don't really know what it'll look like. Except that, this being Jim Thompson, there will probably be some dead bodies.
I'm not criticizing the book. It's a very good book, without the psychotic people who normally populate Jim Thompson books. I really enjoyed it. It's less than 200 pages and took me about three days.
In 1990 the book was made into a Stephen Frears movie starring John Cusack (one of my favorite actors), Annette Benning, and Angelica Huston. It as a good movie, a character study as much as anything. Donald Westlake, employing his darker Richard Stark persona, wrote the screenplay. I can't remember the movie well enough to tell you whether or not it faithfully followed the book. But I recommend both the book and movie.