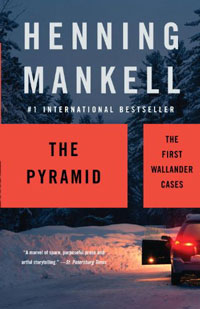 Henning Mankell's nine-book series about Chief Inspector Kurt Wallander begins in January 1990. Wallander is 42, divorced, a father, and has risen through the police ranks. He started out in Malmo, then transferred to the smaller city of Ystad, where all of the Wallander books occur. So there's a lot we don't know about Wallander.
"The Pyramid: The First Wallander Cases" fills in the blanks with five stories which span the year from 1969, when Wallander is a 21-year-old patrolman, to the first Wallander book, "The Faceless Killers." I expected a somewhat disjointed book. And yet, the five stories hold together real well as a whole.
"Wallander's First Case" (100 pages) occurs in 1969 when our protagonist is patrolman in Malmo, preparing to transfer to the detective division. He looks into an apparent suicide in his apartment building, and it turns into a murder mystery. We also meet his fiance, Mona, and we can tell this marriage won't work out.
"The Man with the Mask" occurs on Christmas Eve in 1975. Wallander is married to Mona, has a daughter (Linda), and will soon begin a new job in Ystad. This 30-page story finds him confronting a robber/killer at a gas station. It's a fascinating piece.
"The Man on the Beach" occurs in Ystad in 1985. It's a simple, interesting little murder mystery. Wallander's marriage is on the rocks.
"The Death of the Photographer" (60 pages) occurs in 1987. Wallander is now divorced.
The final story, "The Pyramid," occurs in 1989. It's a large plot involving international drug-running, and has the feel of a full-blown Wallander book condensed into 160 pages. The book ends with Wallander receiving an early morning call about a new murder, which is the beginning of "The Faceless Killers."
The five stories tell a lot about Wallander, and are interesting stories in themselves. I particularly liked the two 30-page stories. I wasn't expecting a lot from this book, and was pleasantly surprised.