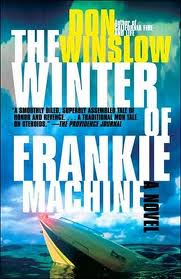 "The Winter of Frankie Machine," by Don Winslow, is the best novel I've read this year. Better than "The Girl Who Played with Fire."
The title character is Frank Machianno, a legendary mob hitman and enforcer on the West Coast. Frank has left the mob life, and now lives quietly as Frank the Bait Guy, with a bait shop at the end of a pier in San Diego. He runs several businesses, takes care of an ex-wife and a current girlfriend, has a daughter, and does a lot of community work for which he's beloved.
The first six chapters (40 pages) go into great detail about what his life involves–the "winter" of his life. Those pages follow Frank through a single day. It's actually fascinating stuff and cements the character in our minds.
Then, at the end of that day, a couple guys from the old days show up, ask him to do something, set him up for an ambush….and Frankie Machine comes back to life. He's on the run, trying to figure out what's happening and why people are trying to kill him.
The narrative continually retraces Frank's earlier years, so we see his spring, summer, and fall. We'll resurface to the present, and then something happens that sparks a memory which may hold a clue, and back we go in time. In some writers' hands, this can be tedious. But Winslow handles it masterfully, seamlessly. Every single flashback is absorbing. And mixed among all of those previous events, you realize, is the reason he's now being hunted.
It's been a long time since I've seen a book so well crafted, so tightly written, so engaging. Frankie Machine makes for a fascinating protagonist. In retracing his early years, we see clearly that his legend is deserved.
Everything works out, with all the pieces falling into place, though you're really not sure how it's going to end.
This book was published in 2006 under the Black Lizard imprint. I read one other Winslow book, "The Life and Death of Bobby Z," which didn't impress me as much. But I've got two more Winslow books on my shelf, and I look forward to tackling them.