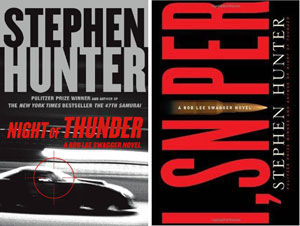 "Night of Thunder" (2008) takes place in Bristol, Tennessee, just before the big Bristol NASCAR race. Pam and I visited the Bristol track a few years ago on vacation. It's truly an amazing track, and I could only imagine the excitement around the race. This book brings out that excitement.
Stephen Hunter has written three books starring Earl Lee Swaggard, a WW2 Medal of Honor winner and southern sheriff. He's a fine creation, as hard as they come, maybe as tough as Jack Reacher. But Hunter's best creation is Bob Lee Swaggard, Earl's son. Bob is a master sniper, with the third-highest number of confirmed kills (86) in Vietnam.
Thus far, Hunter has written 6 books starring Bob Lee, with a 7th due in December 2011. I've read them all, starting with 1993's "Point of Impact" (the basis of the movie "Shooter," starring Mark Wahlburg). Probably my favorite was the 4th book, "The 47th Samurai," which masterfully alternated between Earl on Iowa Jima and Bob in present-day Japan. That book came out in 2007, nine years after his previous Bob Lee book ("Time to Hunt," from 1998). But Hunter has now cranked out a new Bob Lee book every year.
"Night of Thunder" (2008) finds Bob Lee's daughter, a reporter in Bristol, run off the road in an attempt to kill her; she spends most of the book in a coma. That brings Bob Lee to Bristol, and he sets about determining who tried to kill his daughter. The cast of characters includes a woman deputy who is a crack shot, a Nascar racer, a clerk at Lester's convenience store, FBI agent Nick Memphis (who traces back to the first Bob Lee book), and the Grumleys, a clan of criminals and killers led by a charlatan preacher. The Grumleys are planning something epic at the race,
Bob Lee is now in his early 60s, with a pronounced limp thanks to both a sniper's bullet and a sword wound the year before (from "47th Samurai"). But he's still tough as nails, and don't mess with his daughter. Obviously, I can say without spoiling anything, Bob Lee figures things out, saves the day, and exacts vengeance. That's what happens in all Stephen Hunter books.
"I, Sniper" (2009) begins with Carl Hitchcock, the number two sniper from Vietnam, being framed for the sniper killings of four anti-Vietnam activists (in real life, Carlos Hathcock recorded 93 kills in Vietnam, the 4th highest total). Hitchcock is then found dead, an apparent suicide, in a motel room. Bob Lee Swaggard is brought in to confirm that it was, indeed, Hitchcock who carried out the executions. Predictably, he determines that Hitchcock wasn't the shooter, and that he didn't commit suicide. And predictably, nobody believes him.
The first person killed was Joan Flanders, who is a clone of Jane Fonda. Every detail about Joan–physique, actor father, Oscar, anti-Vietnam activism (complete with photo sitting at a Vietnamese anti-aircraft gun), workout videos, marriage to a media tycoon–everything is exactly Jane Fonda. In light of the attack on Congresswoman Gabby Giffords and the "targeting" by Sarah Palin et al (after this book was published), I must say that it felt both uncomfortable and inappropriate. Hunter didn't need to get so specific. He was, it seemed, condoning the idea of assassinating Jane Fonda. But I digress. Back to the plot.
Swaggard puts the FBI team on the right trail, and even goes undercover. But the investigation is derailed by T. T. Constable (Ted Turner–get it?), Joan's ex. He wants the investigation shut down, and uses his connections to make it happen.
The plot increasingly surrounds Constable and his motives for shutting down the investigation, but also involves a team of bad-boy Irishmen who are former British SAS snipers, two of the other assassination victims (also anti-Vietnam activists), and Nick Memphis, the FBI agent in charge of the investigation (who also made an appearance in "Night of Thunder").
Both books were very good, typical Hunter fare. I suppose I liked "Night of Thunder" better, but "I, Sniper" had a more interesting ending. "The 47th Samurai," and probably "Point of Impact" (my memory is fading) were better yet.