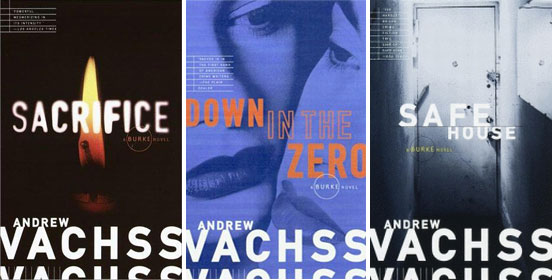 "Sacrifice" (1995) is the sixth book in Andrew Vachss's urban survival series based around the guy named Burke. These books have a definite feel to them, and all deal in some way with child abuse. Burke takes a zero-tolerance attitude toward hurting kids. Child molesters are "freaks," and he deals with them. Vachss, in real life, is an attorney who works exclusively with cases pertaining to children and youth.
The titles of the first five books reflect the major female character–Flood, Strega, Blue Belle, Hard Candy, Blossom. Here, "sacrifice" refers to a young boy around whom the plot revolves. This boy has been severely abused, tortured and sexually assaulted as part of a pedophile ring. To cope with it, he split into multiple personalities. Most of the time he is Luke. But there are also Toby, Baby Susie, and a very scary kid who calls himself "Satan's Child." In that personality, Luke has killed.
Burke, with the help of his rogue's gallery of friends–Max, the Mole, the Prophet, newcomer Clarence, and Mama–tries to track down the people responsible for abusing Luke and others.
If Vachss stuck to the plot, the book would be about two-thirds as long. But he meanders around, dealing with various things that come up. This does not detract from the book, not in Vachss's skilled hands. It just provides more atmospherics, drawing you deeper into this New York City underworld.
Then I moved on to the next book in the series, "Down in the Zero" (1995) This book was set in a tony Connecticut neighborhood where a number of teens have been committing suicide. One teen suspects murder, and fears that he'll be next, so he comes to Burke for help.
So Burke goes to that town and tries to unravel what's happening. It's perhaps my least favorite Burke book, with way too much sexual content and not much plot. Plus, as with "Blossom," the story takes Burke away from New York City, and away from his urban crew. It makes the book much less interesting.
Next, I read "Safehouse" (1998), thinking it was the next book in the series, when in fact there are two books between "Safehouse" and "Down in the Zero." Anyway, "Safehouse" is very good. The theme is stalking. Burke gets involved with Crystal Beth, who helps run a safehouse for abused women, many of whom are being stalked in some way. Vachss creates very interesting female characters, and Crystal Beth is in that tradition, somewhat reminiscent of Lizbeth Salander in Steig Larsson's great books. Through her, Burke becomes enmeshed with a shadowy CIA-type named Pryce in a sting on a neo-Nazi ring intent on carrying out a terrorist plot. Since this was written prior to 9/11, but after the Oklahoma City bombing and the original World Trade Center bombing, it's extra interesting.
Toward the latter part of the book, Crystal Beth takes Burke around to a number of women in the safehouse, and they tell their stories of being stalked in some way, and usually physically abused in terrible ways. These are engrossing stories in themselves. I'm guessing that they were adapted from actual cases Andrew Vachss or his wife worked with, or knew about, in their real-world work as victims advocates.
Again, there is plenty of sexual content, though not as graphic as what you'll find in a Stuart Woods novel. But it's all part of this urban world Vachss has constructed, a world I find fascinating. And his focus on victims–particularly children, but also women–gives it not only a redeeming quality, but a strong educational element.