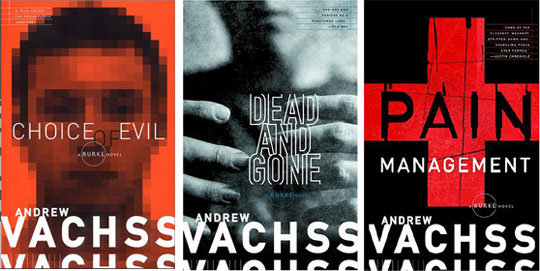 I just finished reading three Andrews Vachss novels back to back to back. All in the Burke series.
In "Choice of Evil" (1999), a close woman friend, Crystal Beth, is shot and killed at a gay rights parade; several other people are killed, too. Then someone starts picking off gay-bashers, lots of them. He's quite a prolific killer…and becomes somewhat of a hero in the gay community.
Burke is hired to find this killer by some gay rights people who want to protect the guy. The ghost of Wesley, a notorious killer who was a friend of Burke, permeates the book. But Wesley's dead…or is he? And who killed Crystal Beth, and why?
In "Dead and Gone" (2000), Burke facilitates what appears to be the trade of a boy who had been abducted from his parents years ago. But actually, it was all designed to be an assassination attempt on Burke. He ends up in the hospital with a bullet through his brain, an eye missing, and severe disfigurement. Even worse, to Burke: he watched Pansy, his dog, get killed.
Once out of the hospital, Burke strikes out to find who set him up. The quest takes him to Chicago, Oregon, New Mexico, and Florida. He meets some very interesting people along the way, including Gem, an exotic Cambodian criminal who becomes his lover. There is, of course, a final reckoning with those who set him up, and Pansy is avenged. It just takes a while.
"Pain Management" (2001) finds Burke staying in Portland with Gem. He accepts a job–to find Rosebud, a teenage girl who disappeared from her home. She appears to be a runaway. But why? Operating in Portland, without the familiar New York cast of underworld characters–Max, Michelle, the Mole, Mama, Clarence, and others–Burke is just another private investigator, and this is just another mystery plot.
Burke uses this book to preach against restrictions on industrial-strength pain medicine for terminally ill people. They end up dying in agony, when drugs were available which could have kept them comfortable in their final days. Kind of a strange cause, but there you have it.
All three of these books seemed to plod along, spending way too much time on relationships, albeit with interesting people, without moving the plot along. And he needs to get back to New York City. Which, I understand, Burke does in the next book. But for now, I'm gonna switch my reading to something else.