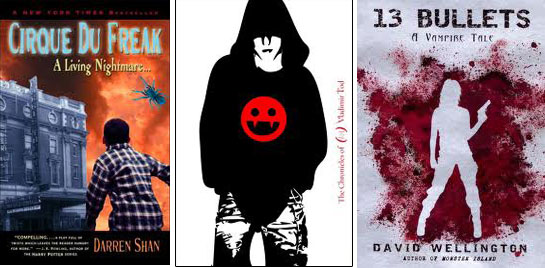 Pam and I started watching "The Vampire Diaries" via Netflix. I've always enjoyed vampire lore, and how people render the vampire story in movies and on TV. Pam and I watched all of the Buffy and Angel series, and have really liked the Twilight movies. Now we're big fans of "The Vampire Diaries." The final disc in Season 1 arrived yesterday.
With vampires in my head, I read three vampire books. Two of them, like the Twilight books, are categorized as juvenile fiction. If you look in a bookstore, the juvenile shelves are filled with books involving vampires. I picked out three series that seemed promising, and read the first book in each to see if I might want to continue reading that series. In all three cases, the answer is a yes, with varying degrees of enthusiasm. All were quick reads.
"A Living Nightmare" (2002), Book 1 of the Cirque du Freak series, by Darren Shan. Darren Shan's main character is Darren Shan, a high schooler who stumbles across the vampire world at an underground freak show called Cirque du Freak. I don't get why he uses his own name, as if it's a mock true story, but whatever.
Not a whole lot happens in the first book, but we do get well acquainted with Darren Shan (the character), and learn a few things about how Darren Shan (the author) will develop the vampire legend. Darren wants to become a vampire, and arranges to join the circus as a vampire's assistant, sort of a "vampire in training" role.
It was an engaging book, and a quick read. There are 12 books in this series, divided into four trilogies.
"Eighth Grade Bites" (2007), Book 1 in the Chronicles of Vladimir Tod, by Heather Brewer. There are 5 books in this series, one for each year of school, ending with "Twelfth Grade Kills."
The protagonist, Vladimir Tod, was born a vampire. His father was a vampire, his mother human; both were killed by vampires, and he's being raised by an aunt. He's 13, attending 8th grade, has a crush on a particular girl, and gets regularly harassed by two bullies. His lunches are spiked with blood capsules, since that's what provides him nourishment. He must keep secret the fact that he's a vampire; only his family and a friend know.
Turns out a society of vampires is looking for him. They killed his parents (his father fell out of favor), and there's something special about Vladimir which even he doesn't realize (and we're not informed about in this first book).
I liked this book better than the Cirque du Freak book, and I'll definitely read more.
"13 Bullets" (2007), Book 1 of the Vampire Series by David Wellington. Wellington wrote a trilogy about zombies, and just started a series about werewolves. In between are four books about vampires.
"13 Bullets," you discover quickly, is not juvenile fiction. The main characters are adults (a police detective and a US Marshall), the action can be gruesome, and a few expletives creep in. There is nothing romantic, or even human, about Wellington's vampires. They don't look human anymore, they are merciless killers, they are almost unstoppable in their speed and strength, and there is absolutely nothing redeeming about them. They must be killed.
The protagonist is Laura Caxton, a Pennsylvania State Trooper. It's believed that vampires were wiped out 20 years ago when Jameson Arkeley, now a US Marshall, killed the last remaining ones. But one vampire remains, imprisoned for the past 20 years yet somehow able to create new vampires on the outside.
Caxton gets teamed with Arkeley to track down and kill the new vampires and their half-dead minions. There is a lot of mayhem, lots of bodies. Wellington takes some new approaches to the vampire legend. I liked the story, which moved right along, and will read more in the series.