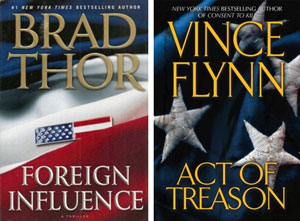 I decided I couldn't ignore them anymore–Brad Thor and Vince Flynn. They've been big names in the international thriller genre since the new millennium started, but I hadn't read any of their books. Been too focused on mysteries. They are often mentioned in the same breath. Tributes on books by other thriller writers will say stuff like, "In the same class as Flynn and Thor." Peas in a pod.
So, at Hydes Books I selected a book by each: Thor's "Foreign Influence," and Flynn's "Act of Treason." I decided to see just how good these guys are.
Quick conclusion: I like Vince Flynn a whole lot better.
Both authors use a continuing hero, and their series began just a few years apart–Flynn in 1999, Thor in 2002. Flynn's protagonist is Mitch Rapp. Thor's guy is Scot Harvath. I have a lot of problems with Harvath.
First, there's the name. Scot Harvath. What kind of action hero name is that? Here are good action hero names: Jack Reacher, Sean Dillon, Jack Bauer, Jason Bourne, James Bond. Scot Harvath–that's a good name for a banker, or maybe an Olympic swimmer. Not for a kick-butt ex-SEAL. You know a good action hero name? Try "Brad Thor." Flynn chose a much better name, Mitch Rapp. It's not a great name, but in a scrape, I'll take a Mitch Rapp over a Scot Harvath any day.
Another criticism: Scot Harvath is a sadist. Several times in the book, he engaged in some serious torture. The real maiming type. One time, his victim was a woman. It was totally unnecessary, and it kind of turned my stomach. Mitch Rapp never resorted to torture (at least in this book).
Another criticism: Thor's book dealt with Muslim extremists, and he used every Muslim stereotype he could think of. Very shallow.
Another criticism: Thor is a darling of right-wing ideologues (like Glenn Beck), and embraces their beliefs–torture, all Muslims are terrorists, etc. This came through clearly in the book I read. It was FoxNews talking points.
On the other hand, Thor's "Foreign Influence" had a pretty good overall plot with a few interesting characters, in particular a Spanish dwarf. And the book was structured with two threads–one in Chicago, where a cop was unraveling a terrorist plot; the other in Europe, where Scot Harvath was chasing leads in pursuit of terrorist bombers. But there was no intricacy to the plot. Harvath jaunted around Europe, but mostly following one lead at a time–a clue in one city would lead him to another city, where a new clue would lead him to yet another city, where another clue awaited. It was very predictable.
But then I read Vince Flynn's "Act of Treason," and it was SO much better. The characters were better drawn, the plot was more intricate and included some interested political intrigue, and overall, there was a lot more texture to the writing. Flynn is just a better writer. Flynn, too, is a darling of the right wing, but that didn't come through in his writing. In fact, he wrote some things which right-wing ideologues wouldn't like. And Mitch Rapp was just a much more interesting protagonist.
So I'll keep reading Vince Flynn. He's good, very good. I'll give Thor one more chance, but I have low expectations.