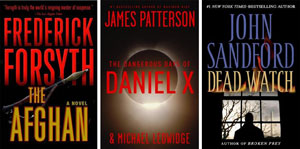 I'm a little behind on reviewing books I've read. Here are three recent novels.
The Afghan, by Frederick Forsyth. This one disappointed me. Forsyth did a great deal of research, and felt like he needed to inflict it all on the reader. I was never really engaged in the plot. At least not until the end, when he kicked into a higher geer. Interesting ending. But the rest–just skip it.
The Dangerous Days of Daniel X, by James Patterson and Michael Ledwidge. This is a new series under the Patterson brand. Daniel X is an alien, who himself is an alien hunter. He tracks down and kills aliens living on earth. It was interesting, quirky, and fast-paced. I'll look forward to additional books in this series. It's mostly fluff, but I like that sometimes.
Dead Watch, by John Sandford. Not one of his better books. Certainly far beneath the Lucas Davenport "Prey" books. Here, Sandford introduces a new hero, and instead of a murder mystery, we get a political thriller. I'd say the political thriller isn't Sandford's forte. The plot was certainly intricate enough, and I liked the hero, and it moved along, and…so what didn't I like? Don't really know. But it just didn't satisfy me.