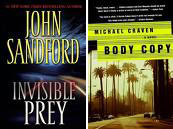 John Sandford is among today's best mystery/detective writers. His Lucas Davenport mysteries, set in Minneapolis, are always good reads. I started with his first book, "Eyes of Prey," many many years ago. I've missed a few in the "Prey" series (all of his titles use the word "prey"), but I think Pam has read them all.
"Invisible Prey" is one of those mysteries where the reader knows who the killer is long before the protagonist does. We follow along, watching Davenport go down some blind alleys, yet inch closer and closer. And yet, there are still plenty of surprises.
There are a number of big-time, prolific mystery writers today. I read just four of them: James Patterson's Alex Cross mysteries; Robert Parker's Spencer, Jesse Stone, and Sunny Randall books; and John Sandford's Davenport books; and Lee Child's Jack Reacher thrillers. That's enough to keep anyone busy. Of those, Davenport is probably the least interesting to me, which may explain why I've missed some of the Prey books. I would never, ever, skip an Alex Cross mystery.
"Body Copy" is the first novel by Michael Craven. It's hero is Donald Tremaine, a former world champion surfer turned Private Investigator. He's an interesting character. I enjoyed the book, with its mystery that really didn't unfold until near the end. For most of the book, I just watched Tremaine follow lead after lead, none of which really seemed to be going anywhere.
I suspect this is only the first in a series. Craven writes with some quirkiness, with some similarities to Elmore Leonard and Carl Hiassen. I'm not a big fan of either of them, but if another Tremaine book came out, I'd probably have to read it.