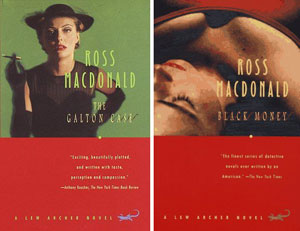 Ross MacDonald is one of the greats when it comes to detective fiction. His protagonist is Lew Archer, who is modeled after Raymond Chandler's Philip Marlowe. The classic loner. Man against the system. No private life. No friends among the police. A competent fighter, but still tends to get beat up a lot.
MacDonald wrote 18 Archer books 1949-1976 (he died in 1983).
I'd read five MacDonald books, but still had two on my shelf (all rescued from used bookstores). Henning Mankell's "The Pyramid" was the 100th book I'd read from the Black Lizard imprint. I decided to start the next 100 with those two Lew Archer books. I read them both during a three-day period while recovering from surgery.
"The Galton Case" is by far the best Lew Archer book I've read. An aging wealthy woman hires Archer to find her son, who disappeared 20 years before along with his streetwise bride. That part is solved in fairly short order. But by then the book has become a murder mystery, Nevada gangsters have shown themselves, an old murder surfaces, an apparent grandson appears, and…well, it just keeps getting more and more interesting. The plot takes Archer to Ontario a couple times. This was a highly satisfying book. It totally surprised me, and that's not easy to do.
I then moved on to "Black Money." A rich young fellow hires Archer to learn the identity of a suave guy known simply as "the Frenchman," who has wooed away his girlfriend. Much of the book involves untangling the Frenchman's identity. But mixed in is a seven-year-old suicide, gambling debts, money laundering, and a bunch of rich people.
MacDonald's books are rollercoasters. There is no down time, no time for reflection, no private interlude with a girlfriend, no nice meal. It's all plot. When Archer needs to get from San Francisco to Ontario, it takes a paragraph. You don't read anything about the journey. He's just gets on a plane, and a couple sentences later he's knocking on a door. You really need to concentrate, because there is no chance to catch your breath. MacDonald is well worth the ride.