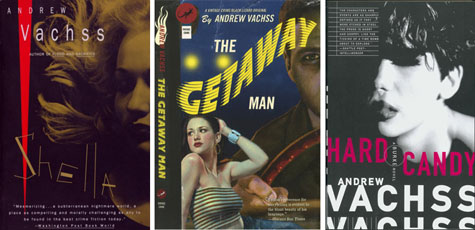 Andrew Vachss writes roman noir, in which the protagonists are criminals. Think of movies like "Bonnie & Clyde," "Pulp Fiction," "Last Man Standing," and "Payback." Or the books of Jim Thompson.
"Shella" is told in first-person by a young contract killer. We never learn his name. He kills with his hands, never with firearms. After serving several years in prison, he emerges in search of his sometime-prostitute girlfriend, whom he calls Shella. The search takes him across the midwest, to bars and pool halls and dance clubs, and into the arms of a white supremacist group bent on inciting a race war. There are no good citizens, nobody with socially redeeming qualities. It's a dark book, told by a sociopath. Yet I liked it.
"The Getaway Man" is also told in first-person, this time by Eddie, a simple-minded young man who knows cars, and knows driving. The books tells his story, from teenagerism on. He teams up with various robbers, and does stints in prison. Finally, in prison, he catches the attention of J.C., who plans out heists meticulously. A good share of the book involves planning for one last major theft of an armored car. A very good surprise ending, which you don't grasp until the last four words.
"The Getaway Man" isn't nearly as dark as "Shella," and Eddie is a more fully-drawn and interesting character. He is, in many ways, a very innocent, naive fellow. The protagonist in "Shella" is similar in ways, seemingly a bit dim-witted, but also an unfeeling killer (like Dexter, in Jeff Lindsay's books). I liked "The Getaway Man" better.
Finally, "Hard Candy," the 4th of the 18 Burke novels by Vachss. These novels are set in New York City, I believe, and they've got a very distinct feel. Burke and his fascinating assortment of friends live on the criminal side of the Citizen/Criminal line, but are mostly just trying to get by. Someone described these novels as "urban survival." Roman noir stuff all the way.
I'm interested in the Burke novels, and not. He writes in a somewhat cryptic way, so that sometimes you're not sure what has just happened. The characters tend to be very sexually charged, though his writing isn't sexually graphic; however, I could do without that. This 4th novel continually referred to events in the first three books, which I haven't read. So if I'm going to read this series, I need to start at The Beginning. But I'm not sure if I want to start. But don't get me wrong–these are interesting, unique books. I've not seen anything like Burke.