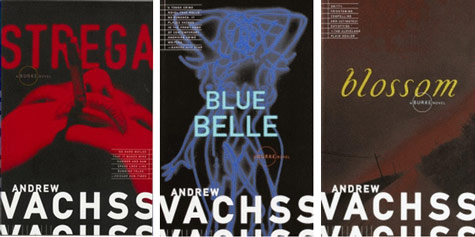 I recently polished off three books in the "Burke" series by Andrew Vachss. I was so engulfed in the environment he creates–the underworld and more sordid aspects of New York City–that I wanted to keep reading more. Burke and his friends–Max the Silent, the Mole, the Prophet, Michelle–live on the criminal edge as they seek to survive in the heart of New York City.
All of the Burke novels, from what I understand, deal in some way with child abuse. Vachss himself is an attorney and consultant who works exclusively with matters pertaining to children and youth–abuse, neglect, delinquency, custody, etc. He also founded an organization called PROTECT: The National Association to Protect Children. His wife, Alice, is a former sex crimes prosecutor who later became Chief of the Special Victims Bureau in Queens, New York. So child abuse is an area of enormous passion.
The titles of the Burke books refer to the main female character in that book. I had previously read "Hard Candy" (the fourth in the series, but the first that I read), and then "Flood," the first book. Now I tackled, in quick succession, numbers 2, 3, and 5.
In "Strega," (number 2) a woman who calls herself Strega seeks Burke's help in locating a photo taken of her young nephew by a kiddie-porn ring. Along the way, you learn a lot about how sexual abuse affects its victims–a really good education on the subject.
Strega doesn't come along until you're well into the book. Before then, Burke deals with several other things, and we learn a lot of background (like how he ended up doing a very long stretch in prison).
Next in the series is "Blue Belle." The title character is a dancer. Much of the first half of the book focuses on her relationship with Burke. The main plot involves a "death van" which prowls the New York streets killing young female prostitutes. Then there's an expert martial artist who wants to face Max the Silent. Lots of other tangential things happen. The book doesn't contain as much background information about Burke or other characters as "Strega" did, but I liked it a lot.
The fifth book in the series, "Blossom," takes Burke to Merrillville, Ind., to help out a prison friend whose nephew is in hiding after being accused of multiple murders. When you take Burke out of New York City, you lose something. You lose his odd collection of friends, plus the atmosphere, the NYC underground. For that reason, "Blossom" didn't really feel like a Burke book, an indication of how closely Burke is identified with New York City. Nevertheless, it was a really good mystery.
I'd say I'm pretty well hooked on the Burke series, and on Andrew Vachss's writing in general. He's different.