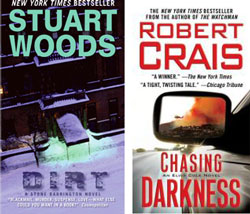 I'm always interested in finding a good detective series. I'm especially partial to strong male protagonists–tough guys. Even within those confines, there's plenty of variety, from Jack Reacher at the hard end of the tough-guy spectrum, to the somewhat soft Kurt Wallander at the other end–still a fairly tough guy, but not terribly formidable. Between those bookends you'll find Spenser, Lew Archer, Hammett's nameless Continental Op, Marlowe, Jesse Stone, Martin Beck, Lucas Davenport, and Alex Cross. Among others.
I'm always looking for a good new series. And with that in mind, I recently tried two new authors.
Stuart Woods wrote a series–now up to 18 books–around private investigator Stone Barrington, a former cop in New York City. I actually read one of the later books in the series, "Fresh Disasters," but wasn't too impressed. However, I promised myself I'd give Woods another chance. That chance came with "Dirt," the second book in the series.
"Dirt" was a true-blue winner. Someone is publishing dirt–not gossip, but real factual stuff–about a famous gossip writer. It's the turning of the tables. She asks Barrington to find the identify of the anonymous gossipmonger. The job takes him into the high society social scene, and people inevitably die.
This was a superb book which kept me guessing. All the details dropped along the way came together in the end. And now I'm hooked. I need more Stone Barrington books.
Now let's switch to the left coast. Robert Crais was totally new to me, as was his 12-time protagonist, Elvis Cole. I picked up "Chasing Darkness" at Sam's Club, and ignored it for most of a year. Until last week.
I was immediately taken with Cole and his mysterious bad-guy friend Pike. They are definitely modeled, however loosely, on Spenser and Hawk, but it's on a whole different (lower) level of writing–still good, but not on par with Robert Parker. But then, nobody is.
Still, I really liked Elvis Cole. A man is found dead, an apparent suicide, with a book showing photos of seven murdered women. The case seems to be ironclad: he's the serial killer who has eluded the police for most of a decade. But Cole, who cleared this guy of one of those murders three years before, just can't accept the evidence. It was an interesting plot, which took some unexpected turns just as I thought I had things figured out.
I really really enjoyed Elvis Cole and the collection of friends he draws on. Liked him even better than Stone Barrington. So now I've got two lengthy series to relish in the years ahead.