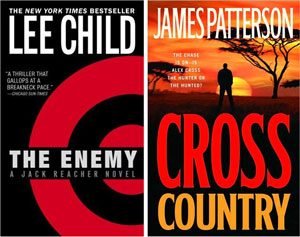 On vacation, I read three books. Not a very impressive output, by my standards, and certainly fewer than I expected to read. But three it was. And here are two of them.
"The Enemy" is Lee Child's 2004 book about Jack Reacher. Although it's the 8th book in the series, it's actually a prequel to all the other books. The story takes us back to Reacher's days as an MP in the military. A general dies under suspicious circumstances, then his wife is killed, then a Delta soldier is killed, then the Delta commander is killed. Reacher and a woman MP fight through all kinds of institutional obstacles to try to solve the murders and figure out what in the world was happening.
Frankly, this was my least favorite Reacher book. It was very much a police procedural. The plot moved along slowly, without the "thriller" feel of his other books. I struggled to get through it. And when I got to the end, some things didn't really add up for me. I think Lee Child needs to leave really intricate plotting to people like John Grisham, and just let Jack Reacher cause mayhem.
"Cross Country" is the 14th Alex Cross novel by James Patterson. I've read all 13 earlier novels, and as far as I can remember, they were all winners. "Cross Country" may be the first Alex Cross novel I didn't really care for.
Patterson excels at creating villains. Here, it's a hulking Nigerian named The Tiger who leads a band of killer kids in home invasions, massacring entire families. It's all tied to things happening back in Nigeria. One of the victims is an old flame of Alex Cross.
Cross ends up traveling to Nigeria to catch The Tiger, and things immediately begin going badly. He also ends up in Sierra Leone, where we learn all about the civil war of the 1990s (though Patterson makes it sound almost like the rebel war is still going on), and then to Darfur, where we learn about the plight of refugees there. Then it's back to Nigeria, where we learn more about the sad state of affairs in that country. In the process, he gets beat up more than Rocky.
It all felt unnecessary, especially the jaunts to Sierra Leone and Darfur. Neither trip furthered the plot. Patterson just wanted to inform readers about the situation in these places, and decided to do it very awkwardly. Philip Kerr's "Berlin Noir" novels, set in Nazi Germany, provided a fascinating historical backdrop without sidetracking from his plots. A Michener novel educates you about times and places, without coming across as trying to "teach." Patterson just didn't do a good job with taking his story to a different country. He acquired some humanitarian conscience and wanted to spread it, and did it poorly.
A character as strong as Alex Cross does cry out for a TV series. Morgan Freeman played Alex Cross in a couple movies, but he was a bad choice–too old. A young Denzel would have been great.