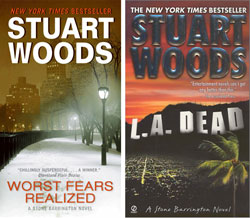 During the past week I polished off two more Stuart Woods books, the 5th and 6th in the Stone Barrington series.
In "Worst Fears Realized," some people close to Stone are getting killed. Evidence points to the attacks being engineered by a guy who is currently in prison. So Stone and his partner, Dino, try to unravel who is actually carrying out the attacks. And then there's palace intrigue in the police department, as Stone is being unaccountably accused of carrying out one of the murders. What's up with that? Along the way, Stone strikes up a hot romance with Dolce, the daughter of a mobster.
There's a bit more violence in this book than in most. We also see Stone showing–even flaunting–wealth more than in other books (or maybe I just hadn't noticed). The guy has money, for sure.
"LA Dead" begins with Stone and Dolce getting married in Italy. It's a two-part ceremony–a civil ceremony, followed by a religious ceremony. Stone understands that both are needed to make the wedding official. In between the two, he learns that his old flame, Arrington, is in trouble and is asking for his help. So he rushes off to California.
Arrington's husband, movie star Vance Calder, has been murdered in his home, and Arrington seems to be the prime suspect. But she has amnesia–can't remember what happened. Stone hires a bigshot lawyer and begins planning her defense. Meanwhile, he calls Dolce back in Italy, and her attitude really stinks. He realizes he has made a mistake in deciding to marry her.
A lot of women come into the picture, all of whom have had sex with Vance and want to have sex with Stone. Then Dolce shows up. Remember, she's a mobster's daughter; her previous husband was killed execution-style after Stone entered her picture. She's very possessive, in a Kathy Bates "I'm your biggest fan" kind of way.
So Stone's dealing with his current wife (who might be a murderess) and his old flame (who most probably is a murderess). Not to mention all these other women.
This was quite an interesting book, especially because of the personal dramas.