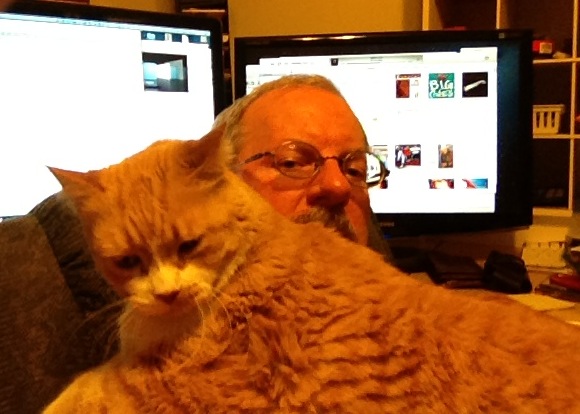 It's nice being able to work from home, where there are absolutely no distractions.

Leave a comment
---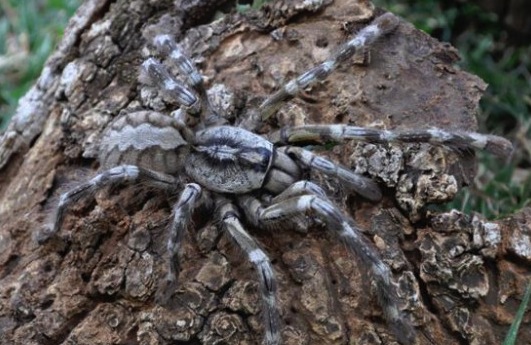 Newly discovered in Sri Lanka: a giant tarantula with a leg span of eight inches. It lives in trees, it's fast, and it's very poisonous.
So you're walking through the forest and stumble into a spider web. Out of the corner of your eye you see, scampering toward you through the trees, an ugly spider as big as your face. You know, something EXACTLY like one of those things in the Alien movie.
Enjoy your day. And don't go anywhere near Sri Lanka.

Leave a comment
---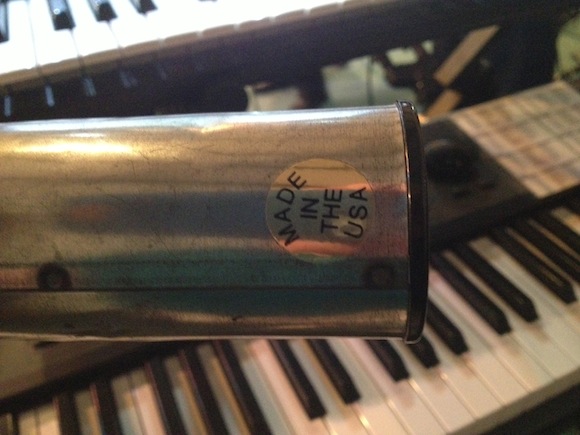 During music practice last night, I was using a shaker and I saw something you don't see very much: a sticker saying "Made in the USA." So, as our bass player Paul Neher observed, we know how to make a tin tube filled with sand.
It was probably made of imported tin, and I wouldn't doubt that the sticker itself was made in China. Cynical me.

Leave a comment
---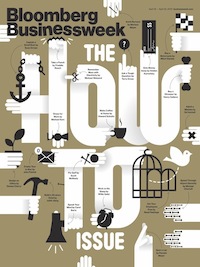 In the current "How To" issue of BusinessWeek, Bill Richardson addresses, "How to Talk to a Dictator." He said it must be person-to-person (not by email or phone), and you must understand the dictator's situation at the moment–his current moods, who he feels threatened by, what he desires, etc. Don't get emotional. Use some levity. Good, practical stuff based on much experience. And I'm thinking, "Or, we can just send Dennis Rodman."
In another article, "Walking Dead" producer Greg Nicotero tells people how to walk like a zombie. There is technique involved. He says people tend to want to drag a leg or walk with their arms extended, like Frankenstein. He says to think more like walking out of a bar at 2 am. Relax your shoulders (zombies lack muscle tone). Let your eyes wander, not focusing on anything (which shows intelligence). Keep your chin down, eyes forward.
I'm trying to think of a context in which that might prove valuable. Nothing comes to mind.

Leave a comment
---
The oldest known (but not the last) Nazi concentration camp survivor died April 21 at age 107. After refusing to renounce his faith as a Jehovah's Witness, Leopold Engleitner survived three concentration camps and forced labor between 1939 and 1945. He was released from Ravensbruck in 1943 after agreeing to work as a farm slave laborer. Later, after being ordcered to report for duty in the German army, he hid in the countryside until the war ended.

Leave a comment
---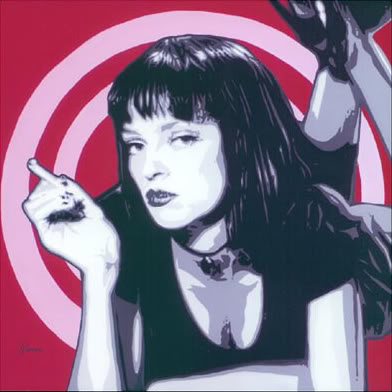 Interesting list of "Problems you haven't had since the 1990s." Here are a few of them.
Someone's on the phone. I can't use the internet.
I bought the CD because I liked the single. The rest of the album is crap.
Blockbuster already rented their copy of Groundhog Day and there's no other way to see it.
I dropped my cellphone. Now I have to buy a new floor.
I want to listen to music while running, but my Discman keeps skipping.
I want some privacy, but the phone cord doesn't stretch far enough.
I have to do a school report, but I hate going to the library.
With so many job opportunities, I can't decide which job to take after college.

Leave a comment
---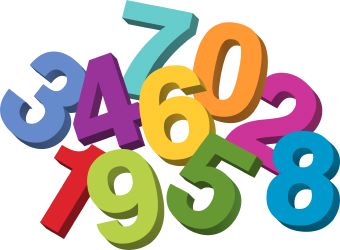 I am so confused. But numbers always do that to me.
We Americans use Arabic numerals–1, 2, 3, 4, 5, 6, 7, 8, 9, 0. Clearly, we're condoning Islamic systems and opening the door to the full implementation of Sharia law.
But these numbers actually began in India. Arabs themselves refer them as "Hindu" numerals.
Meanwhile, Arabs don't use Arabic numbers. Instead, they adopted a completely different numbering system, which they call "Hindi" numerals (not to be confused with "Hindu" numerals).
Meanwhile, in India, where the whole Arab thing began, native languages use a whole other numbering system.
I think India should be getting some kind of royalty payments.

Leave a comment
---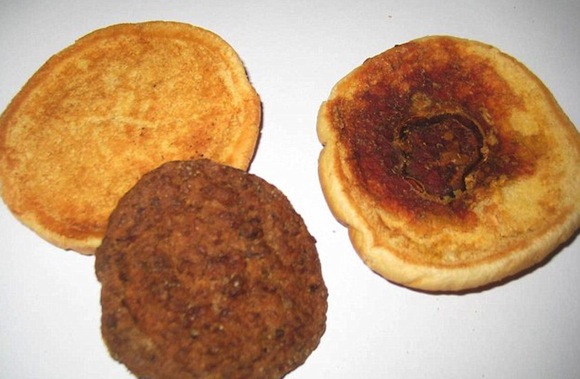 See that McDonald's hamburger above? It is 14 years old. A Utah man bought it in 1999, stuck it in a coat pocket, and forgot about it. The dated receipt was with it. Now, 14 years later, it looks the same as when he bought it, except that the pickle has disintegrated. It has no mold, and no bad smell. I don't know what to think of it.

Leave a comment
---
It takes a half-turn to seal the cap on a milk jug. Perhaps you've noticed.
A few years ago, Research & Development teams in the milk jug industry designed a cap that required a mere quarter-turn. A major technological breakthrough if there ever was one. Think of the bodily wear-and-tear that would be saved by such an innovation.
But it flopped. Consumers felt like it wasn't sealing the jug tightly enough. They wanted to keep turning.
So this great new invention was discarded, and society returned to half-turn caps.

Leave a comment
---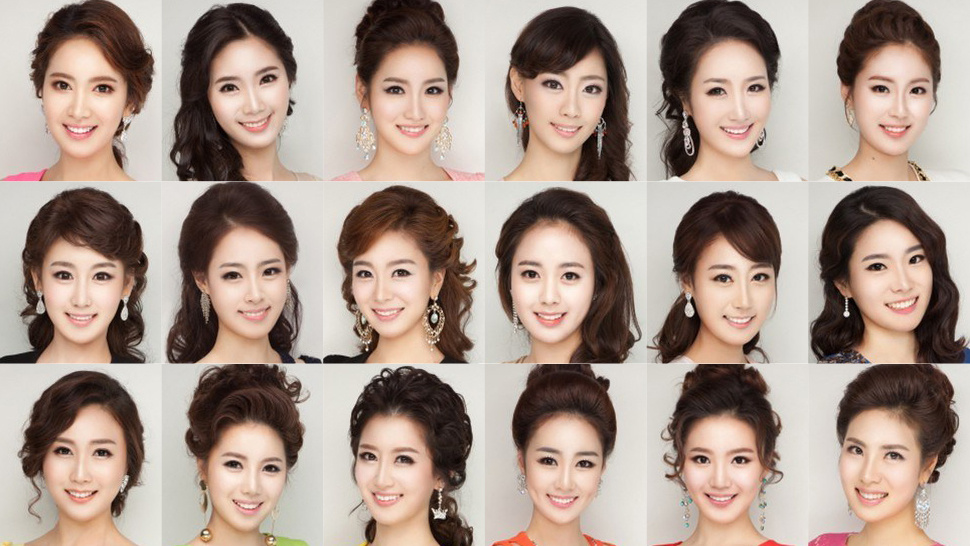 A little controversy arose in South Korea over the Miss Korea beauty pageant. A photo collage of all of the contestants showed that they look eerily similar. This is credited to the South Korean infatuation with plastic surgery. South Korea has the world's highest per capita rate of plastic surgery. Women use the same plastic surgeons to get the same procedures done to lips, noses, eyes, etc. And so they emerge looking very similar. As this photo shows. It's almost creepy.

Leave a comment
---