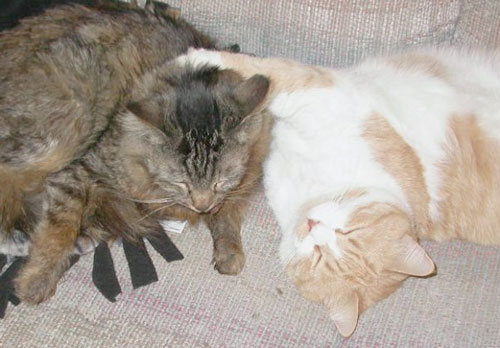 If Pam and I get raptured, what happens to Jordi and Molly? How can I enjoy eternity knowing that my cats–my KIDS–are trapped in our house with limited food and water?
But God has provided. To the rescue: Eternal Earth-Bound Pets, USA. This service, run entirely by atheists, is committed to caring for left-behind pets. The website says:
You've committed your life to Jesus. You know you're saved. But when the Rapture comes, what's to become of your loving pets who are left behind? Eternal Earth-Bound Pets takes that burden off your mind.

We are a group of dedicated animal lovers, and atheists. Each Eternal Earth-Bound Pet representative is a confirmed atheist, and as such will still be here on Earth after you've received your reward. Our network of animal activists are committed to step in when you step up to Jesus.

We are currently active in 22 states. Our representatives have been screened to ensure that they are atheists, animal lovers, are moral / ethical with no criminal background, have the ability and desire to rescue your pet and the means to retrieve them and ensure their care for your pet's natural life.
The cost: $110 for the first pet, $15 for each additional pet at the same residence. This is good for ten years. If the rapture doesn't occur within ten years, they keep your money. And being atheists, they are quite confident of keeping it.
Leave a comment