From Buzzfeed, about TV reality shows: "If the cameras weren't turned on, these would be lives we'd run away from."

Leave a comment
---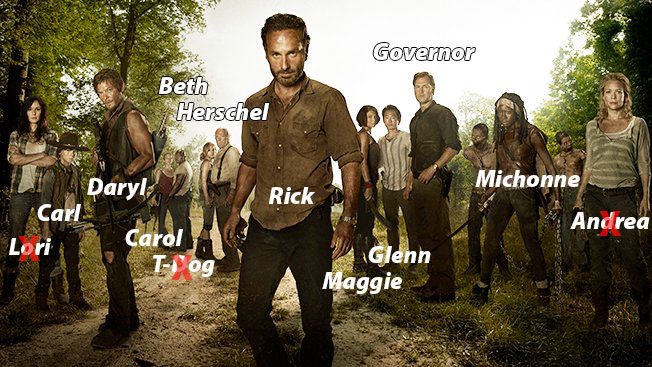 I suspect that, in six years, kindergarten teachers will find a surprising number of kids with the names Michonne, Daryl, and Carl. All three are warriors, and somewhat Eastwoodesque in being killers with few words.
I am, of course, referring to characters in AMC's "The Walking Dead," a show Pam and I really enjoy.
Those three characters have emerged as distinctive and un-psycho. Merle, Shane, and the Governor are distinctive, but not guys you'd take home to Momma. Most of the women characters are just annoying (Lori, Maggie, Andrea) or invisible (Carol, Beth).
The old guys tend to be likable and sane–Hershel, Dale–but I don't see parents naming kids after them. Glenn is coming into his own. Rick–I don't know. He needs to come out of his funk, and it looks like that may be happening.
But Carl, especially with that great hat, is developing into a great character–kind of Eastwoodesque, a killer with very few lines. Daryl has always been a great character. And Michonne ia kick-butt samurai warrior. And Eastwoodesque too, now that I think of it.
I was happy to see Morgan appear in a late-season episode. I'm wondering if he'll be sticking around. He could be an interesting guy to have around.

Leave a comment
---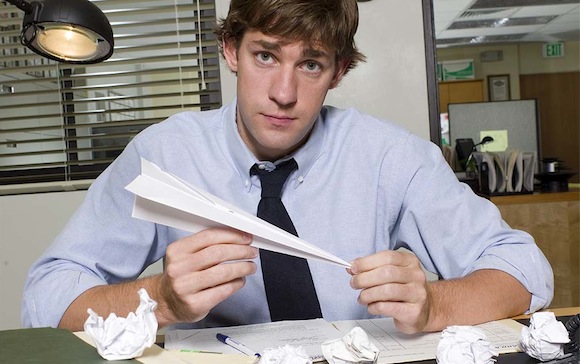 My 2013 office calendar is, appropriately, from "The Office" TV show. Each month is a different character, with a few quotes. I just turned the page for April, and it's…JIM!! My favorite character! One of the quotes is this piece of wisdom:
"No, I'm not going to tell my nine-months-pregnant wife that I find her replacement objectively attractive. Just like I'm not going to tell my two-year-old daughter that violent video games are objectively more fun. It's true, but it doesn't help anybody."

Leave a comment
---
Toward the end of "The Walking Dead" last night, I was wondering which cast member would die next. Because nobody is safe. Shane, Lori, Dale, T-Dog–anybody can go next.
So there was a scene with Carol (who I had expected to exit long ago) and a former prisoner named Axel. I figured it would be either Axel or Beth, the daughter of Hershel whose character hadn't been developed.
As I watched that scene, I decided it would be Axel. And WITHIN SECONDS, a bullet went through Axel's head.
I decide…it's done. Eery.

Leave a comment
---
For several years, I have griped about Fred Armisen's impersonation of Barack Obama on Saturday Night Live. In the 2012 season opener, Jay Pharoah (my choice for a replacement) finally assumed that role.
And I was not impressed.
Disappointed, in fact. I'm becoming a hard-to-please, cranky old man.
(But maybe he'll get better. Fred Armisen definitely wasn't getting better.)

Leave a comment
---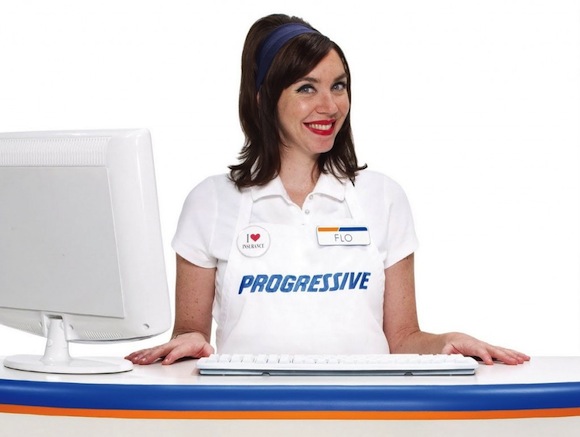 Advertising Age magazine picked the Top 10 Female Ad Icons of all time. Chronologically, they include:
The Morton Salt Umbrella Girl (1914).
Betty Crocker (1921).
Miss Chiquita (Chiquita bananas, 1914).
Rosie the Riveter (1943).
Josephine the Plumber (Comet Cleanser, 1963).
Mrs. Olson (Folgers, 1963).
Madge the Manicurist (Palmolive, 1966).
Rosie the Waitress (Bounty, 1970s).
The incomparable Clara Peller (Wendy's, 1984).
But I am most excited to see, on this prestigious Top Ten list, one of my personal all-time favorites: Flo the Progressive girl.
Are they missing anyone? All I can think of is Aunt Jemima and Mrs. Buttersworth. I think Aunt Jemima deserves to be in the Top Ten.
Back in 1999, Advertising Age did a list of the Top Ten Advertising Icons of the Century--man, woman, or animal. Aunt Jemima DID make that list. So she definitely should have been among the top women. That list was:
The Marlboro Man
Ronald McDonald
Green Giant
Betty Crocker
Energizer Bunny
Pillsbury Doughboy
Aunt Jemima
Michelin Man
Tony the Tiger
Elsie (Borden dairy products)

Leave a comment
---
ABC is moving Jimmy Kimmel into the 11:30 slot to compete directly with Leno and Letterman, and moving Nightline an hour later. Which was a shock to me, because I had to realize: What? Nightline is still on? Who knew?

Leave a comment
---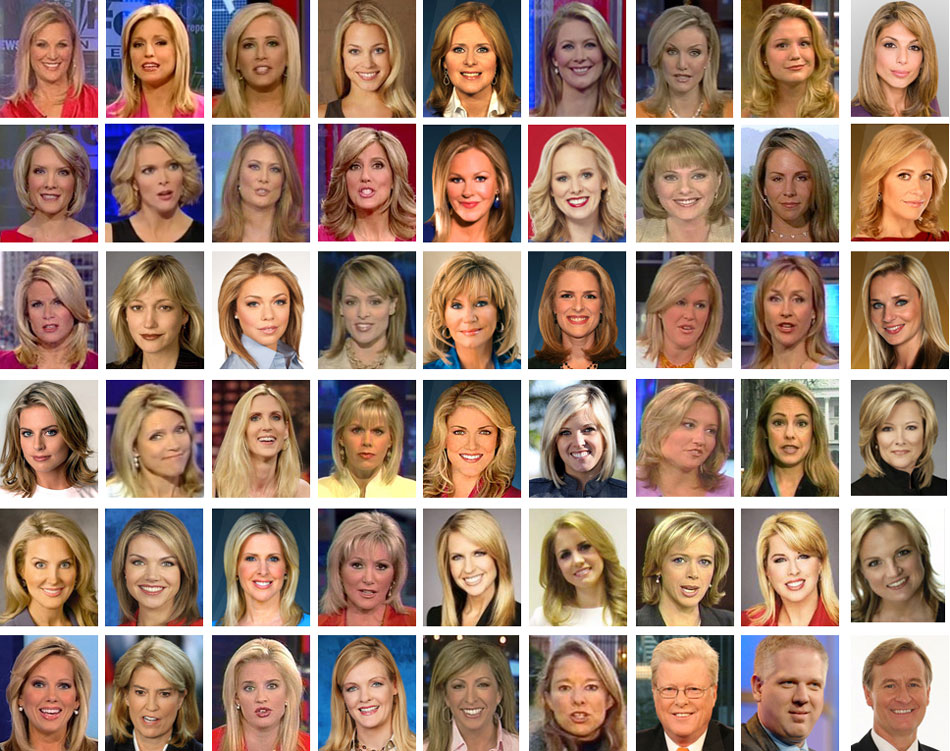 Roger Ailes, head of FoxNews, has a real thing for blondes.
He has three basic requirements for female correspondents and anchors:
You're blonde.
You're white.
You look good wearing a very short skirt and sitting on an open couch, chair, or stool. (Because Roger's certainly not going to put you behind a tasteful desk.)
Imagine two women sitting outside Roger Ailes' office, waiting to be interviewed for a job at FoxNews. One is a blonde in a short skirt. The other is a brunette wearing…well, it doesn't matter what she's wearing. You know who's getting the job.
Yes, you'll occasionally see a Hispanic, and there's Michelle Malkin to represent Asians. Roger Ailes lets them keep their dark hair. But with few exceptions, if you're a white woman and your name is not Sarah Palin, he requires that you be blonde, or at least heavily highlighted.
I have trouble telling the FoxNews women apart. They all tend to look like Megyn Kelly.
Roger's predilections apparently don't bother conservative women viewers. Hey, he's a powerful guy and a champion of conservative values, so he can hire whoever he wants. And the correspondents themselves don't mind being objectified. Though I imagine it gets uncomfortable sometimes sitting rigidly on that couch, knowing you don't dare move your legs until the next commercial break.
In the photo (click to enlarge): Some of the blondes over the years at FoxNews and Fox Business Channel. Row 1 (top row): Juliet Huddy, Ainsley Earhardt, Jamie Colby, Jill Dobson, Molly Hennenberg, Molly Line, Paige Hopkins, Ginger Williams, Nicole Petallides. Row 2: Dana Perino, Megyn Kelly, Molly Line, Alisyn Camerota, Lis Wiehl, Margaret Hoover. Molly Falconer, Alicia Acuna, Melissa Francis. Row 3: Martha McCallum, Jennifer Eccleston, Lauren Sivan, Jane Skinner, Sandy Rios, Janice Dean, Meredith Whitney, Brooke Alexander, Sandra Smith. Row 4: Courtney Friel, ED Hill, Ann Coulter, Gretchen Carlson, Marianne Rafferty, Elizabeth Prann, Lisa Bernhard, Claudia Cowan, Gerri Willis. Row 5: Heather Childers, Heather Nauert, Cheryl Casone, Donna Fiducia, Monica Crowley, Jenna Lee, Lind Vester, Rita Cosby, Louise Pennell. Row 6: Shannon Bream, Greta Von Sustern, Laura Dhue, Caroline Shively, Laura Ingle, Amy Kellogg, John Gibson, Glenn Beck, Steve Doocy.

4 Comments
---
I've always been a student of the news. Though I trained in college as a journalist, I've spent my career in institutional communications, which real reporters view as the refuge of compromisers, the Dark Side. But I've always maintained my fascination with the mainstream, hard-news media. I dropped my subscriptions to Columbia Journalism Review and Washington Journalism Review years ago, but still do plenty of reading and critical observing of the men and women who bring us the news.
People don't like hearing this, but the best day-in and day-out reporting still occurs on the 3 network evening news shows–CBS, NBC, and ABC. Those shows are the most objective, and they cover a broad range of subjects.
I know, the right-wing pundits tell you that anything but FoxNews is the "liberal media" and shouldn't be listened to. The Faithful are only permitted to listen to FoxNews. But I say rubbish. I far prefer the evening news shows. They easily deliver the most consistent high-quality journalism. But only for 30 minutes.
Brett Baier at FoxNews is okay, but it's clearly a politically partisan show, not serious news. CNN's Wolf Blitzer–sorry, I just can't stomach him. Fingernails on blackboard stuff. And MSNBC doesn't even try to do an evening news show, instead starting early with their partisan yokels, whom I find unwatchable.
But from 6:30-7:00, if I'm home, I'm watching the Big Three networks. Good, solid reporting.
I'm a big Brian Williams fan, more so than I was a fan of Tom Brokaw. But lately, I've developed quite a taste for Scott Pelley, who this year replaced Katie Curic on the CBS Evening News.
Now, I think Katie Curic got a raw deal from viewers. I, personally, didn't care for her general style and didn't watch her show much. But they did some creative, solid stuff under her leadership. I remember one marvelous report which showed the affects of the economic slowdown rippling through one community.
Katie was a competent anchor. But coming from the morning shows, people viewed her as light-weight and never really gave her a chance. Plus, she may have been too much of a change in a time-slot where people may prefer sameness. You can probably put me in that category. As I said, I didn't care for her general style, though my greater problem was with the shallow pool of seasoned reporters. CBS's once-exceptional line-up of reporters has been decimated in recent years. But Katie was a much better anchor than people gave her credit for. I think a lot of the perception was just pure sexism. But in the end, she wasn't pulling in the ratings, and the evening news is a business. She had to go.
Scott Pelley, who earned his reporting cred on 60 minutes, brings a whole different style. He comes across as very serious–a bit Dan Ratherish, but not Rather's strained way which made me grimace. You just feel like Pelley's giving you the day's stories in an objective package without trying to entertain or condescend. I like that. More and more, I find myself dwelling on CBS. Plus, Pelley can always draw on the ace reporters at 60 Minutes.
Diane Sawyer is solid, too. But ABC is clearly chumming with the entertainment division. Sawyer landed interviews with Gabby Giffords and Jaycee Dugard, and is the anchor most likely to nab Casey Anthony, Amanda Knox, and that ilk. Not my cup of tea. But hey, it's good for your ratings.
My preference is still NBC, but more because of the depth of their bench–Richard Engel (the premier war correspondent), Andrea Mitchell (the best Rolodex in town), Chuck Todd, David Gregory, Jim Miklawszewski (Mr. Pentagon), Kelly O'Donnell, Nancy Snyderman, Lisa Myers, and many others. It's an unbeatable team. And Brian Williams, though he plays it straight on the evening news, is as funny as they come when you get him on the Daily Show or other platforms.
But watch out–Pelley's on the hunt.

2 Comments
---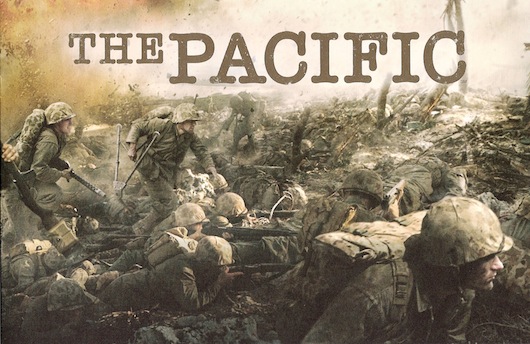 Pam and I just finished watching "The Pacific," the 2010 HBO mini-series produced by Tom Hanks and Steven Spielberg. This 10-part series follows the stories of three real-life Marines who fought in the Pacific war against the Japanese. Robert Leckie and Eugene Sledge both wrote books about their experiences: "Helmet for My Pillow" and "With the Old Breed" respectively. They both died in 2001. The other person was John Basilone, a Medal of Honor winner who was killed on Iowa Jima.
Basilone had been in the military since around 1937. Leckie enlisted in the Marines after Pearl Harbor. They both fought on Guadalcanal. Sledge enlisted in the Marines in December 1942. Both he and Leckie faught on Peleliu. Leckie's combat service ended there. There is a brief sequence showing Basilone's heroic actions on Iowa Jima, and then the 9th episode is entirely about Sledge on Okinawa.
The three stories are intertwined nicely. I've read Leckie's book, but not Sledge's or any of the books about Basilone. I imagine the directors took some liberty with the stories–and I've heard that they did–but I suspect it was minor. They could have had Leckie and Basilone meet in some way on Guadalcanal, or Leckie and Sledge cross paths on Peleliu, and it would certainly have been interesting. But they didn't do that.
"The Pacific" is a companion to the 2001 series "Band of Brothers," which followed an Army company through the European theater fighting the Germans. Obviously, people will draw comparisons. Overall, I would say I enjoyed "Band of Brothers" more, and felt it was better in a lot of ways. But it was a different war–cleaner, more "civilized," if you can use that term with war. The war against the Japanese was much more brutal, dirty, ambiguous. More like Vietnam.
I found it more difficult keeping track of the action in "The Pacific." It didn't help that so many of the actors looked alike. In that respect, I would say the casting was terrible. I had a tough time keeping characters straight. Someone would be killed and I would think it was somebody else. Very confusing. Fortunately, the three main characters–Leckie, Sledge, and to a lesser extent Basilone–were pretty distinct. But I gave up trying to keep some of the other soldiers straight, and that hurt my experience as a viewer.
Another complaint I have is their depiction of the battle for which Basilone won the Medal of Honor on Guadalcanal. They seriously underplayed it. Seriously. They showed a battle sequence that lasted maybe 5 minutes, and sure, Basilone was heroic. But the real story: Basilone's regiment came under attack by 3000 Japanese soldiers in a battle that lasted 3 days, and ended with only Basilone and 2 other Marines still fighting. "The Pacific" gives us no sense of what actually transpired. There is a scene, after Basilone returns to the States, where someone reads aloud, in Basilone's presence, a newspaper account of what happened. But I got the impression, from the context and from Basilone's demeanor, that it was an exaggerated news account in a country wanting a hero. I didn't realize the full extent of Basilone's heroics until I read about him on Wikipedia.
The most interesting character was nicknamed Snafu, and played by an actor named Rami Malek. He went through the war with Sledge, and pretty much stole every scene he was in, I thought. I figured he was a character just made up for dramatic effect. But at the end, we find out he was a real guy. I'm wondering how he was actually portrayed in "With the Old Breed."
I think the idea of following three Marines with great true stories was a good idea. It was also good to focus entirely on grunt footsoldiers, as "Band of Brothers" did. In following three Marines, they left out representing the crucial sea and air war in the Pacific. But through those three Marines, they covered well the life of Marines in the Pacific theater, from Guadalcanal to Okinawa. Neither series tried to be representative of the entire war, and that was wise. In both theaters, the really crucial element was the common footsoldier, and that's where they focused.
Both series are fairly graphic, but it seems to me that "The Pacific" goes further than "Band of Brothers" in that area. "The Pacific" more effectively shows the horrors of war, probably because what Marines experienced in the Pacific was so terribly horrific.
I highly recommend both series. I think "Band of Brothers" is more interesting and better done, but you really need to watch both series.

Leave a comment
---