"In the United States," writes black theologian James Cone, "the clearest image of the crucified Christ was the figure of an innocent black victim dangling from a lynching tree." As Good Friday approaches, it's worth reflecting on.
I'm nearly done with Cone's troubling book, "The Cross and the Lynching Tree." It has shredded my heart. Cone describes the role of the cross among black Christians during the 70-some years of Jim Crow. After Union troops were removed from the South in 1877, it became open season on blacks. They lived in fear, not daring to cross whites in any way. It was an era of terrible persecution, daily terror, despicable evil.
Over 5000 blacks were lynched across the South. Some were shot, beaten to death, or burned alive. But most were hanged, after having been tortured–castrated, flogged, sliced up, burned with rods. The Atlanta Constitution and other newspapers sometimes published the date and location of an upcoming lynching. Up to 20,000 people might come out to see a black man, or perhaps several black men, be mutilated and killed. It was a family affair. Children often got their first chance to torture a black person, perhaps cut off a finger or ear as a souvenir. Photographers came to make postcards showing whites posing with the swinging bodies. Smile for the camera. "This is from our weekend barbecue," people would write on the postcards they sent to friends. THIS EVIL HAPPENED.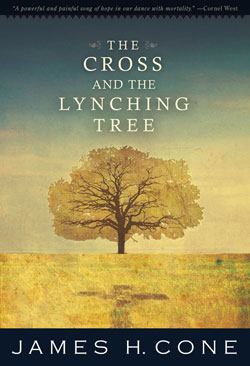 "Lynching was the white community's way of forcibly reminding blacks of their inferiority and powerlessness," Cone writes. "The fear of lynching was so deep and widespread that most blacks were too scared even to talk publicly about it. When they heard of a person being lynched in their vicinity, they often ran home, pulled down shades, and turned out lights–hoping the terror moment would pass without taking the lives of their relatives and friends."
Cone tells of a black man who killed his white boss, but fled. A mob, frustrated, grabbed a different black man and lynched him instead. A proxy murder. When the man's wife protested, she was arrested and turned over to the mob. She was eight months pregnant. Nevertheless, they stripped her naked, hung her by her feet, doused her in gasoline, and set her ablaze. Amidst this, a white man cut open her stomach, and the unborn child fell to the ground. Then the mob trampled the baby. THIS HAPPENED IN AMERICA.
Cone said that both whites and blacks, in their separate churches across town, would sing, "Jesus Keep Me Near the Cross" and other hymns about the cross. But it had a totally different meaning for each group. In white churches, the cross was a talisman, a symbol, something to wear on a chain. Something to burn on a black family's yard.
But when blacks sang about the cross, Cone said, it was real life. The black spiritual said, "Were you there when they crucified my Lord? Oh sometimes it causes me to tremble, tremble, tremble." They truly understood that. Some had watched fellow blacks hang on the lynching tree, and they trembled at the sight.
Lynching provided an obvious picture of Christ. There's a hateful mob. An innocent man railroaded to execution. A public spectacle. Torture. The complicity of government officials. Others who wash their hands of it–"He's innocent, but it's not my problem." A jeering crowd surrounding a man hanging from a tree, watching him die.
When black Christians sang about the cross, they were part of the story, part of the injustice. They had seen this. They had friends, family, coworkers, neighbors who had been beaten and abused, if not killed.
But what consumed black Christians, Cone said, was the VICTORY of the cross. They sang about a cross that brought hope out of despair, a cross that ultimately conquered death. The lynching tree, like the cross, offered condemnation of the hypocritical ruling class–in this case, of white "God-fearing" society. Sorrow and suffering would not defeat them. In the end, the cross promised, justice would reign. It represented hope and victory. As with Jesus, so with them. And that's what they sang about. Exuberantly. Longingly.
Martin Luther King often used the imagery of the cross. He reminded crowds that when Jesus stumbled on the way to Golgotha, a black man–Simon of Cyrene–picked up the cross and carried it the rest of the way. King said, "One day God will remember that it was a black man who aided his only-begotten son in the darkest hour of his life."
Another time he said, "When I took up the cross, I recognized its meaning….It is not something that you wear. The cross is something that you bear and ultimately that you die on."
In the black churches during those vile decades of Jim Crow–churches filled with downtrodden, despised, powerless people–the fraudulent Christianity of the white masters was redeemed.