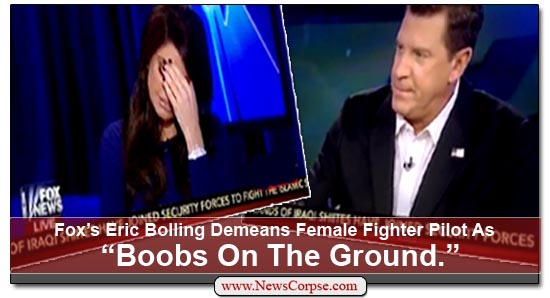 I was shocked yesterday by Eric Bolling's sexist statement on FoxNews's "The Five" about the United Arab Emirates fighter pilot, a woman, who led a raid on ISIS. After claiming to have so much respect for people who put their lives in danger for us, he proceeded to totally disrespect this woman–who, in addition to being a highly trained pilot, is also somewhat of a trailblazer in the Arab world. Greg Gutfield added to it with his trademark flippancy.
This goes beyond political correctness. It's hypocrisy and blatant disrespect of women in uniform. Today Bolling gave a really lame apology. He apologized to his wife for the statement, and he apologized to viewers. Missing was an apology to this UAE pilot. And nothing from Gutfield (who is always extremely self-pleased with his own cleverness).
I don't put a lot of stock in "The Five." Bob Beckel and Dana Perino are good and fair, with resumes that go beyond FoxNews. But the others basically use the show to reinforce their anti-Obama bona fides, seeking Roger Ailes' approval so he'll keep them on the payroll. I guess Bolling's statement shouldn't be too surprising. This, after all, is the "news" network that loves putting women (usually blondes) in very short, tight dresses atop stools with cameras pointed at them.
However, in a personal bit of hypocrisy, I usually end up listening to "The Five" on the way home from work. My other choices are Ed Schultz on MSNBC, a gargantuan blowhard; the fingernails-on-blackboard Wolf Blitzer on CNN; and the ridiculous Dan Le Betard show on ESPN. "The Five" is simply the least objectionable option.
UPDATE Sept 26
I did some checking. Turns out Eric Bolling has a lot of experience with apologizing.
In 2011 Bolling, on a Fox business show, he apologized for racist comments he directed at Obama. Referring to a state visit by the President of Gabon and by rapper Common, Bolling commented, "What's with all the hoods in the hizzy?"
In 2011, he tweeted an apology for a statement on The Five in which he said President Obama had been a drug dealer. The same comment was also made on Hannity's show.
In 2011, he said on The Five: ""America was certainly safe between 2000 and 2008. I don't remember any terrorist attacks on American soil during that period of time." He later apologized for that.
In September 2012, Bolling said Obama "answers to the Quran first and to the Constitution second." To which co-host Bob Beckel slammed his fist on the table and said, ""That's just an outrageous statement. Even for you, that's an outrageous statement." Bolling sort of backtracked on the statement later in the show.
In 2011, he apologized for saying on-air that "The Obama-allied Center for American Progress" released a report blaming Islamophobia in America on "a small group of Jews and Israel supporters in America." Actually, he got his information from a right-wing blog.
In May 2011, he proclaimed on Fox Business's "Follow the Money" show that he was a birther. "There is a legitimate question as to whether or not the president of the United States is allowed to be president of the United States." He was convinced the birth certificate had been Photoshopped. Never apologized for that. I don't know if he's still a birther.
In short: Eric Bolling is not somebody to take seriously. Though he comes across as a fairly nice guy.