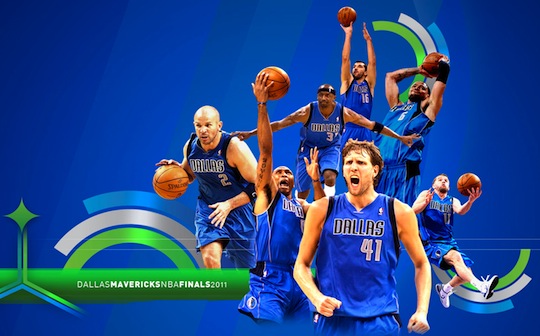 I'm pleased about the Mavericks win on a number of levels:
Jason Kidd and Shawn Marion previously played for my favorite team, the Phoenix Suns.
Marion played for UNLV, a team people love to hate, but which I've always liked, especially in the Jerry Tarkanian days. I know, that makes me evil.
Jason Terry is from the University of Arizona, one of my favorite college teams. (Yeah, Miami had Michael Bibby, who actually led Arizona to a national championship, but what can I say?)
Tyson Chandler is from Hanford, Calif., just a few miles from where I went to high school in Tulare.
Peja Stojakavoc, in his prime, played for the Sacramento Kings, who came excruciatingly close to beating the Lakers to make the finals. A victim of Bigshot Bob Horry. (Yeah, Michael Bibby was a member of that same Kings team.)
JJ Barea–I didn't know anything about this guy before this season. But you gotta love the way a little guy like that plays so doggone BIG.
Mark Cuban–I've always thought he was a great owner, and a wonderful asset to the NBA. Too bad he wasn't able to buy the Cubs.