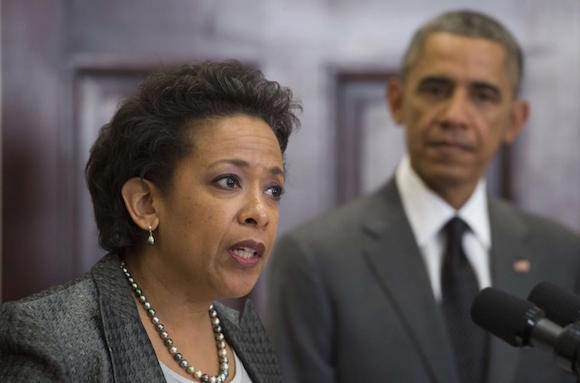 About 80 of Obama's nominees for various positions have been filibustered. In the rest of the history of the United States, only 70 presidential nominees have been filibustered. Hmmmm.
After the Senate Judiciary Committee approves one of President Obama's nominees, they wait an average of 107 days before getting a confirmation vote on the Senate floor. In the Bush administration, the wait was only 43 days. Hmmmm.
When it comes to nominees for Executive Branch positions, the GOP Senate is on pace to filibuster twice as many nominees as experienced by all previous presidents combined.
38 federal courts are now so short-handed, waiting for new appointees, that they are under what is called "judicial emergencies"–a huge backlog of cases. That's up from 27 courts just two years ago. This doesn't seem to bother the GOP Senators. Hmmmm.
Loretta Lynch has now waited nearly five months to be confirmed as Attorney General, and it could stretch out many more months. Some Democrats are accusing Republican senators of racism, since Lynch is black. It's not racism. It's just what Republicans do to EVERY nominee. Though they seem to be going the extra mile in putting Ms. Lynch–and a very important government position–on hold. I find nothing admirable about that.